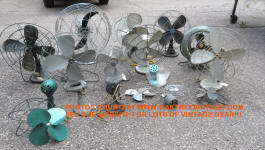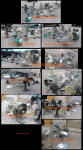 AT THIS POINT, WE'RE MOVING OUT OF OUR REMAINING INVENTORY OF ANTIQUE / VINTAGE ELECTRIC FANS WAITING TO BE RESTORED / REPAIRED / REFURBISHED.

ONE LOT (10+) OF VERY COOL VINTAGE / ANTIQUE ELECTRIC FANS
Great restoration / re-sale projects. Lots of potential $$$$$, but I just don't have the time myself (certainly capable) nor anyone to delegate their restoration to currently.
Most are in 'As-Found' condition and are selling 'As-Is'. Most have all their original parts. Some were in some stage of repair / restoration / refinish when my 'fan guy' moved onto other things, and they've been sitting since. Most run (I've actually used a couple around the shop over the years).
No 'Cherry Picking. Take-it ALL or nothing.
We've processed previous ones (motors service, new ac cords / wires, cleaned and lubed and in some cases re-finished) and realized between $250 to $750 ea. for them.
Click here to see some of them....
Again, I have 'other fish to fry' so don't have time to invest in them.

Brands / models included;
Fresh'nd Aire 2000. (Late 1940's to early 50's likely. 22" cage and 26" tall. Very little surface corrosion on this one),
Eskimo,
Emerson 79648-BB (about 1955, ~16" diameter),
Hunter Zephair C-16 (Late 1940's to early 50's likely)
Hunter / Robbins & Myers CG-16, (Late 1940's to early 50's likely)
Vornado B28C1 (about 1955. 10" blade & 18" tall)
and others.

$950.
AS-IS LOT
SOLD 2021
Local pickup in Colorado Springs, Co. only. No Shipping on these.