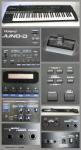 NEW LISTING 5/7/13
(click on the above thumbnails to enlarge photos)
PRE-OWNED
ROLAND JUNO-D SYNTHESIZER
61-KEY / 64-NOTE POLYPHONY KEYBOARD
for sale
The Juno-D comes with 32 MB of waveforms in its memory including Roland's stereo multi-sampled piano, and a whole range of synth sounds from vintage synths to GM2-compatible. Patches are organized in categories such as Piano, Guitar, Orchestra, etc. There are digital resonant filters, LFOs, multi-effects, phrase sampling, chord memory, five front-panel control knobs and a D-Beam controller so you can twist any of the hundreds of patches it ships with into your own more unique sounds.
The Roland Juno D 61-Key Synthesizer is packed with hundreds of first-class sounds. You get expressive multi-effects, real-time performance controllers, and tools for groove creation and composition. The 61-note keyboard offers 64-voice polyphony and improved feel. 640 top-quality patches with split and layering capability are organized into categories for easy access. 20 rhythm sets, GM2 compatibility. 47 multi-effects. Powerful arpeggiator with 400 templates. Multi Chord memory for one-finger chord triggering; Rhythm Guide metronome. The awesome D-Beam controller offers intuitive sound control and front-panel control knobs enable instant fine-tuning. 2 tones can be assigned to each patch, and then split or layered.

The world standard keyboard synthesizer, JUNO-D is reborn. JUNO-D Limited Edition is loaded with a powerful new collection of sounds, including an incredibly realistic piano based on 88-key stereo multi-sampled waves, a massive rock organ, '80s-era brass and electric piano, and many others. In total, you have the luxury of 706 patches, including 66 of the very latest, all at your fingertips. Lightweight and powerful, this synthesizer boasts advanced features and even greater sound quality.

Roland JUNO-D Features:

• 61-note synthesizer with improved keyboard feel and GM2 compatibility
• 64-voice polyphony
• 16-part multi-timbral capability
• Powerful new patches featuring 88-note stereo multi-sampled piano, legendary rock organs by Jon Lord, and '80s Vintage synth sounds.
• 640 newly programmed radio-ready Patches
• 128 user memory patches
• 20+ Rhythm Sets
• 32 Preset Performances provided
• 32MB of Wave ROM
• Stores 100 user-programmable patterns or one song
• Patches organized in categories such as Piano, Guitar, Orchestra, etc.
• Two Tones can be assigned to each Patch, and can be split or layered
• 47 multi-effects, 8 reverb types, 8 chorus types
• Powerful arpeggiator, with 400 phrase/arpeggio templates for instant sonic animation
• 24 Multi-Chord memory for one-finger chord triggering;
• 32 Rhythm Guide metronome with preset patterns and variations
• D Beam controller and front-panel control knobs for expressive performance
• Mac / PC editing with optional software (not included)

Reborn with New Sounds
The JUNO-D Limited Edition is outfitted with 706 exciting patches (includes 66 new). They include a stunningly realistic 88-note piano with individual stereo multi-samples for every key of a world-class grand, sounds sampled from the organ of Jon Lord, the keyboardist of the world-renowned hard rock band Deep Purple, and vintage synth sounds, including '80s-era brass, electric piano, and synth.
Streamlined Operation
Forget about MIDI and focus on playing with the JUNO-D. It's loaded with patch category oriented direct-access buttons for selecting among the hundreds of patches. Enjoy the latest sounds, that can be layered and split. Those who want to program their own JUNO-D sounds via computer, an optional Mac/PC editor can be utilized.
Composition Tools
The JUNO-D is loaded with convenient, performance-oriented features including a powerful phrase/arpeggio generator and Multi Chord memory function, which lets you play a chord by touching a single key. You can assign all 12 notes in an octave to play different chords, and then save them as a set. There are several chord sets already stored in the JUNO-D at the factory. A Rhythm Guide metronome with real drum sounds is also built in, which includes preset patterns with several variations.
Performance Power
Performers will appreciate the feel of the improved 61-note, velocity-sensitive keyboard, which is a step up from previous synths in this price range. Bend, twist, and manipulate your sounds in real time with the D Beam controller, pitch/modulation lever, and five front-panel control knobs.
For additional control, plug in pedal- and/or footswitches such as Roland's DP-2, DP-8 Damper pedal, EV-5 Expression pedal, or BOSS's FS-5U.

Additional Roland Juno-D specs:

Keyboard: 61 keys (with velocity)
Maximum Polyphony: 64 voices
Parts: 16 * Two Tones can be assigned to each part (Patch), and can be split or layered.
Wave Memory; 64 M bytes (16-bit linear equivalent)
Preset Memory
Original Tones: 686
Patches: 706 (JUNO-D original: 450, General MIDI 2: 256)
Rhythm Sets: 20 (JUNO-D original: 11, General MIDI 2: 9)
Performances: 32
User Memory
Patches: 128 * Two Tones can be assigned to each Patch.
Rhythm Sets: 2 / Performances: 8
Multi-Effects: 47 types / Reverb: 8 types / Chorus: 8 types
Rhythm Guide Preset Patterns: 32
Tempo: 5–300 BPM (with tap tempo function)
Multi-Chord Memory
Preset Chord Sets: 16 * 12 chord forms are assigned to each set.
User Chord Sets: 8 * 12 chord forms can be assigned to each set.
Phrase/Arpeggio
Templates: 342
User Templates: 8
Styles (Variations): 473
Controllers
D Beam Controller: 1
Pitch Bend/Modulation Lever: 1
Control Knobs: 5
Display; 20 characters, 2 lines (Backlit LCD)
Connectors; Output Jacks (L/MONO, R), Headphones Jack, MIDI Connectors (IN, OUT), Hold Pedal Jack, Control Pedal Jack
Power Supply; DC 9 V (AC Adaptor) / Current draw; 1000 mA

This 'One-owner', Roland Juno-D keyboard is in 'NEAR NEW' condition. No issues. Ready to go. Includes an appropriate power supply / adaptor.
Cond. 8.5++
$649.
(C) B. McW.


NEW LISTING 9/16
(click on the above thumbnails to enlarge photos)
PRE-OWNED
YAMAHA PSR-1100
61-KEY / 32-NOTE POLYPHONY KEYBOARD
for sale
Stunning sound quality, USB connectivity, full XG MIDI compatibility, and an LCD that displays sheet music! Designed to use the power and expandability of the internet, it features 61 full-size keys with touch response, organ flutes voice with 8 virtual drawbars, pitch bend and modulation wheels, and Music Finder that stores up to 1,200 songs. The Groove/Dynamics function adds serious musicality to auto accompaniments. 3 intros, 3 endings, 4 variations, and 4 fill-ins for every style. It's even multilingual, with interactive help in 6 languages. 32-note polyphony, 16MB of wave ROM, 16-track sequencer (32 tracks over USB), MIDI I/O, floppy drive, 1,524KB flash ROM, onboard effects, internal speakers with 12W per channel, headphone out, 2 footswitch jacks, and L/R line out.

Yamaha PSR-1100 Features:
· USB computer connectivity
· XG MIDI
· MIDI I/O
· 61 full-size keys with touch response
· 32-note polyphony
· 16MB of wave ROM
· 16-track sequencer (32 tracks over USB)
· Floppy drive
· 698KB flash ROM
· 15 drum kits
· Pitch bend wheel
· Onboard effects
· Music Finder stores up to 1,200 songs
· Groove/Dynamics function for auto accompaniments
· 3 intros, 3 endings, 4 variations, and 4 fill-ins for every style
· Interactive help in 6 languages
· LCD displays sheet music
· Internal speakers with ported bass cabinet
· 12W per channel onboard amplification
· Headphone out
· 2 footswitch jacks
· L/R / Stereo line out via 1/4" jacks
· PA300 power adapter and other accessories included

Sounds Good To Me
The PSR-1100 is compatible with commercially available song data including GM (General MIDI), XG, Disk Orchestra Collection (DOC), and XF. The keyboard comes with 287 voices, 480 XG voices, 16 drum kits and is 32-note polyphonic. Additional features include a selection of special samples called Sweet and Cool! Voices. Sweet Voices are special voices from Yamaha that reproduce all the natural expression and vibrato of their respective acoustic instruments; for example, Sweet Flute and Sweet Trumpet. Cool! Voices feature samples of electronically amplified instruments like guitar and electric piano. To get the most out of these great voices, there is a Stereo 2-way speaker system with bass ports to extend low end response.

And to capture all of this sound, you'll find a built-in 16-track sequencer for recording and editing your songs. And remember, you can save your songs and transfer them via USB directly to your computer for further editing or attaching to e-mail. Finally, to round it all out, there are two Foot Pedal jacks, transpose and tuning, auto harmony for the right hand, metronome and a CD-ROM containing File Utility software and USB Drivers. It's all here.

A Keyboard With More Style
The PSR-1100 features Styles (accompaniment patterns) in a variety of different musical genres including Rock, Jazz, Latin, Country and Dance. All you have to do is play the chords with your left hand as you perform and the selected Style will automatically play along, instantly following the chords you play. This is live playing at it's best. For even greater diversity, this keyboard is the first in the line to offer 4 sections to the built-in Styles. For example, you could use the A section for the Verse, B section for the Chorus, C for the Bridge and D for a Solo. In addition, each Style has 3 different Intros and Endings and will automatically fill, if you like, between sections.

This 'One Owner', Yamaha PSR-1100 keyboard is in 'NEAR NEW' condition. No issues. Ready to go. Includes the original Yamaha PA300 power adapter / power supply, expression foot pedal, user manual / paperwork, custom cover, original Yamaha music rack, and original bundled software.
Cond. 8.5++
$695.
(C) S.G.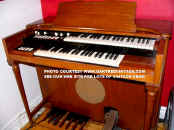 (click on the above thumbnails to enlarge photos)
ORIGINAL
HAMMOND

ORGAN


TONE-WHEEL
M3

M-3


ORGAN
WITH TUBE AMP & SPEAKER
ON HOLD 10/16
Circa 1955-64
Beautiful looking and sounding Hammond, M3 / M-3, Tone Wheel, Tube powered organ. If you can't afford a B3 or C3 and want to get "THE SOUND" , then this is a great, popular and well known way to do it. They are essentially a B3 / C3 without the tone / EQ presets on the left hand side of the keyboard (that is the "reverse" color keys you see on B3's and C3's.) Without that feature, you simply change the EQ / Drawbars manually for each type of tone. This one has had all the filter caps checked as well as all the tubes checked and replaced with original "Old Stock" US versions where necessary. Original 12", Rola, AlNiCo magnet Speaker sounds great! Organ is in great cosmetic and working condition. Only issue is that one of the bass pedals is louder than the rest (we have not pursued that due to assuming most players either aren't going to use them, or are going to "chop" it for road use). Starter and Run motor both perform flawlessly, as does the scanner. Regularly oiled, maintained and ran. It's a blast to play. Keep it the way it is, or "chop" it to take on the road. Would also work and sound great with a Leslie kit installed if you so desire. Runs and sounds great

the way it is though

!


Cond. 8.5


$695.
ON HOLD 10/16



Prefer Colorado Springs located Pick-up, but if you really want, we can help with shipping arrangements, to a point.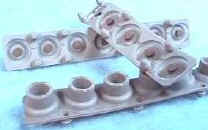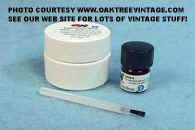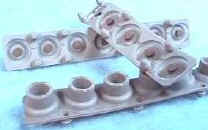 KEY CONTACT REPAIR KIT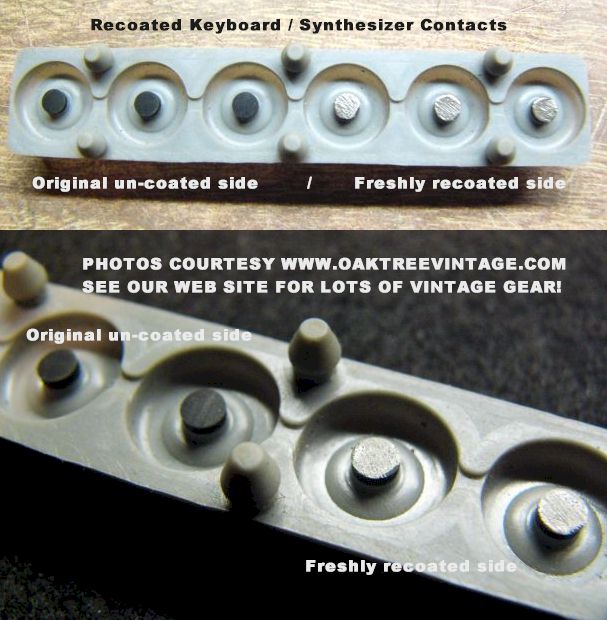 This is a repair kit to repair those worn out, mis-firing Korg Poly, Alesis, Yamaha, Roland and any other brand of drum machine or keyboard rubber key contacts. The contact strips themselves are no longer available in most cases, but if the rubber matrix is still intact you can easily do a quality repair on them and get back to making music!
Each kit is designed / rated to do over 50 contacts (I recently mixed up a batch and did over 200 contacts, and hardly put a "dent" in the amount in the container. Probably could have done many more (once mixed, compound must be used with-in 72 hours). Great for musicians and repair shops needing to resurrect those old keyboards. Use if keys / buttons / switches are making intermittent sound / contact or no sound at all. We have tested this stuff in our own repair shop and it works great. Much to our surprise it also works on keys that transmit velocity or touch sensitivity too. Manufacturer has tested repaired contacts to over 500,000 keystrokes and they passed. If you've tried cleaning yours, they work for a while but they just keep getting worse, here's your fix. We were amazed at how well this stuff works. We repair all our key contacts using this stuff. Comes with instructions and everything you need. Very un-impressive looking package, with what appears to be little actual contents in containers, but will make up for it in performance!

Key contact repair kit
$39.99 each

| | |
| --- | --- |
| Domestic US Customers | International Customers |
| | |

(Korg Poly-61 contacts shown in photos not included. Please verify your keyboard utilizes the rubber type key contacts prior to ordering.)
Repair keyboard keys contacts / rubber pads on Casio CT, CTK, CZ, MT, SA, SK, WK, Korg Mono Poly, Poly-Six / 6, T1, M1, Roland "Juno D", A-30, EP, E-70, GW, HP, KR, JP, JV, RD, Roland SH, VK, XP, D20 / D-20, D50 / D-50, E66, E-66, Yamaha AN1X, CLV Clavinova, DGX, EX7, KX, RX, PSR, PSS, SY, Yamaha YPG, YPP, YPR, YPT, Alesis HR-16 16B B SR-16 MMT-8 MMT8 Drum machines, ARP Kurzweil keyboards as well as many, many others.


________________________________________________________________________

"To whom it may concern; I just wanted to send a quick note of thanks and gratitude. I received my contact repair kit in a timely manner. From start to finish it only took a couple of hours to complete the job on my Roland RS-9. I have had this keyboard since I bought it new in 2001. It has been a reliable, versatile instrument. Now, my kids and I have a band and my son is playing the Roland. We eventually lost an entire octave and I was quoted a repair price in the hundreds of dollars. The Roland now plays as good as new, maybe even better! Thank you!", Scott Dawson


"Just emailing to let you know I received the repair kit for my synthesizer and already fixed it. It went from sounding terrible to sounding like I just bought it new Incredible. Thanks for the fast delivery, I was under the impression it would take a bit. Satisfied customer", Kyle I., Chicago IL

"
Hello Colorado! Just wanted to thank you for helping to get my Korg mono/poly up and running. Almost every key contact was completely non-functioning (before repair), but all are now working perfectly! (after using your key contact repair kit). Thanks again, - James M., Jasper, Alabama
________________________________________________________________________
WARNING: Electronic equipment carries dangerous and potentially lethal electrical currents. You should never open any electronic unit without proper knowledge of electronics and the hazards of electricity!
Any repair / restoration should be undertaken ONLY by a QUALIFIED ELECTRONICS TECHNICIAN!
Oak Tree Enterprises, LLC is not responsible for damage due to misapplied, misused product, and our warranty extends only to the extent of replacement of defective product kits.