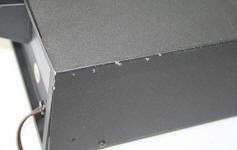 NEW ADDITION
4/1

9

/13

warranty
VINTAGE KENWOOD STEREO AM / FM ANALOG TUNER
KENWOOD KT-413 KT413 TUNER
SERVO CONTROLLED, 'AUTO-SEARCH' TUNING
#...2456
Circa
1972-82
Made in Japan
ü Our technician has completely gone through and 'Certified' this unit.
ü Everything was cleaned inside and out including extensive cleaning of all contacts, switches, controls, motor drive and I/O jacks.
ü Dial cord repaired and restrung.
ü Repaired motor mounting plate.
ü Fuses checked and replaced where necessary.
ü All Dial lamps replaced with new bulbs.
ü We also extensively aligned the tuner front-end, as well as the 'MPX' circuit for optimum AM & FM performance as older internal tuner components have always drifted on vintage gear over the years.
ü Tuner Presets are for manual / 'user placement' indication as tuning sensor doesn't read them, and we were not able to address that.
ü Following electro / mechanical work, unit was fully detailed cosmetically, inside and out.
ü No power supply hum of any kind. It's dead silent! All functions test fine.
ü Cosmetics are in excellent condition.
ü Following restoration procedures, the unit was run continuously for 48 hours.
____________________________

Very impressive and classy looking Kenwood KT-413, AM/FM Stereo tuner with performance to match. Handsome, 'Silver-Face' with clean functions. This tuner 'sounds' INCREDIBLE!!! Not sure why, but this tuner is one of the best performing tuners we have listened to in a long time. The 'Auto-Search' function work brilliantly. Very 'solid' locking when it finds a station. 'Station-Lock' is positive with no detectable drift. This is on BOTH AM and FM. Very 'phat' sonics, with incredible presence and depth. A/B testing with this tuner was an 'eye opener' for us, and we've heard a lot of gear. This tuner is very well built including rotating internal ferrite rod antenna. The tuner preset markers do not function but still work as 'manual indicators' to show where your favorite stations are.

Kenwood KT-413 AM/FM Stereo Tuner Features:

-Station Preset indicators for AM and FM
- 'Fully shielded' 5 gang tuner
- Motorized automatic "Servo Lock" tuning mechanism
- Digital Signal Strength Meter
- Stereo indicator LED
- FM Muting has Auto or Mono selection
- RCA outputs
- Built-in AM Ferrite / 'Stick' antenna w/internal rotation via rear panel

PIONEER KT-413 AM/FM TUNER SPECIFICATIONS:

Tuning Capacitor: SHIELDED! 5 gang, 3 FM & 2 AM
FM SECTION:
Circuitry: FET front end
RF Sensitivity (Mono): IHF Usable (0.9 μV) @t S/N 26 dB, 40 KHz Dev
Capture Ratio: 1.0dB
Selectivity (IHF): 53 dB @ 300 KHz, 20 dB input
THD @ 1k w/ 100% modulation / 65dBf output: 0.1% mono: 0.15% stereo
FM Stereo Separation: @ 250 Hz – 6.3 KHz 40 dB, 122.5 KHz 35 dB
Frequency Response: 30Hz-15kHz +2 dB/-2 dB
Signal for 50dB quieting Mono: 4 μV
Signal-To-Noise Ratio IHF: Mono = 77 dB , Stereo = 72 dB
Image Rejection: 55 dB

AM SECTION:
IHF Sensitivity: 16 μV @ IHF S/N 20 dB
Signal to Noise Ratio: 48dB @ 2 mV input
Image Rejection Ratio: 45 dB

This tuner is in very good condition. Again, we have completely gone through this unit. Looks NEAR NEW both inside and out. This tuner has a very selective FM section and an above average AM section. Much better than most stereo tuners. The tuner preset markers do not function 'automatically', but still work to show where your favorite stations are. Again, I think I can safely say, it's probably one of the best sounding, most 'musical' tuners, we've ever heard (and yes, we've been doing this for almost 30 years). Looks beautiful, works and sound great! Measures 15.5" wide x 11" deep x 5.5" high and weighs 9 lbs unpacked. Includes our standard 90 day limited warranty.
KENWOOD KT-413 STEREO TUNER
Cond. 8.5+
$289.
(Above text, in it's entirety, property of www.oaktreevintage.com / Oak Tree Enterprises, LLC. See 'Copyright Information' page for details)