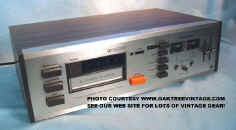 NEW LISTING 7/9/15

(Click on above thumbnails to enlarge photos)

warranty
REALISTIC 8-TRACK
REALISTIC MODEL TR-802


/

CAT # 14-928
8-TRACK DECK
WITH DOLBY


#...9551




Circa 1978-82




for sale




ü

Our technician has completely gone through and 'Certified' this unit

cleaning inside and out, cleaning out 'gelled' lubes (a 'MUST DO' on all pre-owned / vintage

tape decks

) and re-lubricating mechanism

, investing over 5.5 hours of tech time

ü Nylon head clamp has been repaired (most decks utilize a 'nylon' head mount, and we haven't seen one in a LONG time that hasn't been cracked, allowing the head to 'droop'. This MUST be addressed, or the head would never align to the tape).



ü

Heads have been cleaned and entire transport has been de-magnetized.



ü

Main drive belt has been replaced for years of trouble free service.



ü

Internal, linear record switch flooded with cleaner to eliminate 'motor boating' and other common issues.



ü

Track indicator contacts burnished.



ü

All track indicators function.



ü

Head elevator cleaned and re-lubed.



ü

Capstan bushing cleaned and re-lubed.



ü

Head azimuth & track cross-talk for optimum performance and the best high-frequency response (not normally expected from 8-track cartridge performance) utilizing a dual trace Oscilloscope.



ü

Internal PB, REC and METER PC Pots cleaned and adjusted for 0dB with Oscilloscope.



ü

Floor noise measured to 0.3mVAC.



ü

Speed checked at 97.5% accuracy! (1k = 1026Hz)



ü

Checked for 'WOW' and 'Flutter' by recording test tones and dynamic piano cuts. Piano even sounds decent and that's a difficult thing to do with an 8-track 'cartridge' tape deck.



ü

Deck has clear sounding highs even when using pre-recorded tapes. This machine would be perfect for burning your 8-track collection to CD and also records great at 3dB over input level imprinted to tape!!!

One issue with every TR-802 / 803 we've had (and we've had quite a few) is they always have non-functioning, non-repairable tape counters. They have an inherent issue with a small nylon gear around a steel shaft that after 30 years, cracks, thus locking it up every revolution.

The same thing happens to many Pioneer and Craig 8-tracks, as well as a few others (since the tape counters were primarily made by one company for most electronics mfg's to use).

There are two types of

Realistic TR-802/803

8-track tape counters

,...

t

hose that have already have cracked gears and those that are just about ready to have cracked gears. The "work-around" for this is to remove the linkage belt,

and cover the tape counter opening

.



ü

Looks and

other than the above mentioned tape counter, ALL

works GREAT!


_____________________________





Great quality 8-track cartridge play / record deck. We recorded from a CD onto a new 8-track cartridge and it sounded as good as a cassette and many Reel to Reels! Quality tape transport.
Great for making "new" 8-track tapes for listening in your vintage or muscle car. All functions work great.

REALISTIC MODEL TR-80

2

FEATURES

:



- Dual

, 'Bi-Color'

analog VU level meters


- Dual "Glide-Path"

® Tape Record Level Controls


- Locking Fast Forward (2.5x speed)




- Auto-Stop after each tape or at end of each track or Continuous play.

Invaluable when archiving large 8-track libraries. This feature coupled with a "Locking" Fast Forward are must haves for that use.

Auto-Stop works on 'record' as well.


- Repeat & Pause Lock


- Dolby Noise Reduction for Recording and Playback (if desired)




- Front-mounted, separate Left and Right level controls the input recording signal


- Power-assist Eject feature
- Output playback level control on the rear panel to match audio level precisely to your playback

equipment

inputs


- Dual ¼

"

microphone inputs mounted on the front panel





REALISTIC MODEL TR-80

2

SPECS:


Track system:

8-track, 2-channel stereo tape deck
Motor: 1 Synchronous
Transport Control Type: Mechanical: Fast Forward, Play


S/N W/ Dolby

: 55dB


Input Sens on Mic

: 0.3-30mV


Input Sens on AUX

: 100-300mV


Output Level

:

0.775V




Tape speed:

9.5 cm/s (3-3/4 ips)


Wow & Flutter:

>

0.2% @ 3-3/4ips
Frequency response: 50Hz to 12,000Hz (± 3dB @ 3-3/4ips)





Again, unit looks and works great and is ready to use!

(Tape cartridge shown in photos not included with deck)

.

Includes our standard 90 day limited warranty. Measures 1

6

.5" wide x 1

0.5

" deep x 5

.25

" high and weighs

9

lbs unpacked.
REALISTIC TR-80

2

/ 14-92

8




Cond. 8.5


$

38

9.

(Above text, in it's entirety, property of www.oaktreevintage.com / Oak Tree Enterprises, LLC. See 'Copyright Information' page for details)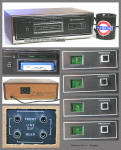 NEW LISTING
5/25/12
(Click on above thumbnails to enlarge photos)

warranty
PANASONIC QUADRAPHONIC / STEREO 8-TRACK CARTRIDGE TAPE DECK / PLAYER
PANASONIC MODEL RS-845US
#...0624
MIJ
Circa

~

197

4-76




for sale


SOLD 9/1/15
SHIPPING TO NEW YORK


Our

technician

has completely gone through

and 'Certified' this unit

.

We have completely and extensively gone through the mechanicals and electronics of this unit. Entire transport was disassembled down to the chassis, and every mechanical part was cleaned, re-lubed and reassembled. We have completely gone through it cleaning all and adjusting the head azimuth & track cross-talk for optimum performance and the best high-frequency response (not normally expected from 8-track cartridge performance). Head azimuth, track alignment, signal phase and internal output level pots all adjusted utilizing dual-trace oscilloscope and factory test tone tape. This deck came out with AMAZING TRACES across the frequency response of the test tape. One we completed adjustment, both sine-wave 'traces' in perfect sync! Internal playback VR's also adjusted w/ O-scope. Entire transport and mechanism has been cleaned, re-lubed and de-magnetized. Program change mechanism and contacts, disassembled, cleaned and re-lubed for trouble-free program changes. Flywheel / Capstan removed, cleaned, burnished / resurfaced and re-lubed.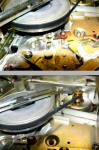 Motor pulley cleaned of old belt residue. New, main drive belt installed for trouble-free service. All original track indicator lamps work fine and respond to program / track changes. Heads have been cleaned and de-magnetized and are in great shape. This machine would be perfect for burning your stereo 8-track collection to CD or for listening to your Quad tapes (also of course works great for listening to normal stereo tapes). Tape speed tested with factory 1kHz test tape for reproduction at 1008Hz or 99.2%. Deck looks good and works GREAT!


_____________________________



Great quality stereo / quadraphonic 8-track cartridge playback deck. Perfect for a 4-channel / Quadraphonic stereo system.
quadriphonic 8-track
Features include:
- Stereo or Quadraphonic Playback
-

Mechanical 'Assist'

Eject
- Analog / Digital track readout indicator
- Rear mounted RCA I/O's for Front and Rear channels
Again, have completely gone through it making ready for playback for listening to or burning your collection. Great for burning your tape collection to another media or for a basis tape deck for a quadraphonic system. Looks good and works GREAT! Includes our standard 90 day limited warranty. Measures 12.5" wide x 10" deep x 4.75" high and weighs 8 lbs unpacked.
PANASONIC RS-845US

Quadraphonic / Stereo
8-Track Tape Player
Cond. 8.5++
SOLD 9/1/15
SHIPPING TO NEW YORK
(Above text, in it's entirety, property of www.oaktreevintage.com / Oak Tree Enterprises, LLC. See 'Copyright Information' page for details)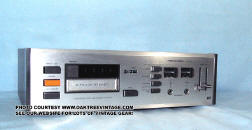 NEW LISTING 7/9/15

(Click on above thumbnails to enlarge photos)

warranty
REALISTIC 8-TRACK
REALISTIC MODEL TR-801
/ CAT # 14-925
#...3312
8-TRACK STEREO PLAY / RECORD DECK
Circa 1975-77


for sale




ü

Our technician has completely gone through and 'Certified' this unit

cleaning inside and out, cleaning out 'gelled' lubes (a 'MUST DO' on all pre-owned / vintage

tape decks

) and re-lubricating mechanism, investing over 6.5 hours of tech time.



ü

Heads have been cleaned and entire transport has been de-magnetized.



ü

Main drive belt and counter belt have been replaced for years of trouble free service.



ü

Internal, linear record switch flooded with cleaner to eliminate 'motor boating' and other common issues.



ü

Track indicator contacts burnished.



ü

All track indicators function.



ü

Head elevator cleaned and re-lubed.



ü

Capstan bushing cleaned and re-lubed.



ü

Head azimuth & track cross-talk for optimum performance and the best high-frequency response (not normally expected from 8-track cartridge performance) utilizing a dual trace Oscilloscope.



ü

Internal PB and METER PC Pots cleaned and adjusted for 0dB with Oscilloscope.



ü

Floor noise measured to 0.3mVAC.



ü

Speed checked at 99.8% accuracy! (1k = 1002Hz)



ü

Checked for 'WOW' and 'Flutter' by recording test tones and dynamic piano cuts. Piano even sounds decent and that's a difficult thing to do with an 8-track 'cartridge' tape deck.



ü

Deck has clear sounding highs even when using pre-recorded tapes. This machine would be perfect for burning your 8-track collection to CD and also records great at 3dB over input level imprinted to tape!!!



ü

Looks and works GREAT!


_____________________________





Great quality 8-track cartridge play / record deck. We recorded from a CD onto a new 8-track cartridge and it sounded as good as a cassette and many Reel to Reels! Quality, ALL METAL tape transport including the head clamp (most decks have 'nylon' head clamps' which will have most assuredly cracked, necessitating repair).
Great for making "new" 8-track tapes for listening in your vintage or muscle car. All functions work great.

REALISTIC MODEL TR-801

FEATURES

:



- Dual

, 'Bi-Color'

analog VU level meters


- Dual "Glide-Path"

® Tape Record Level Controls


- Locking Fast Forward (1.5x speed)




- Auto-Stop after each tape or at end of each track or Continuous play.

Invaluable when archiving large 8-track libraries. This feature coupled with a "Locking" Fast Forward are must haves for that use.

Auto-Stop works on 'record' as well.




- Repeat & Pause Lock




- Front-mounted, separate Left and Right level controls the input recording signal


- Analog Tape counter in "Real Time" (Minutes and Seconds)
- Power-assist Eject feature
- Output playback level control on the rear panel to match audio level precisely to your playback

equipment

inputs


- Dual ¼

"

microphone inputs mounted on the front panel





REALISTIC MODEL TR-801

SPECS:


Track system:

8-track, 2-channel stereo tape deck
Motor: 1 Synchronous
Transport Control Type: Mechanical: Fast Forward, Play


Tape speed:

9.5 cm/s (3-3/4 ips)


Wow & Flutter:

0.2% @ 3-3/4ips
Frequency response: 50Hz to 12,000Hz (± 3dB @ 3-3/4ips)





Again, unit looks and works great and is ready to use!

(Tape cartridge shown in photos not included with deck)

.

Includes our standard 90 day limited warranty. Measures 1

6

.5" wide x 1

0.25

" deep x 5

.25

" high and weighs 12 lbs unpacked.


REALISTIC TR-801 / 14-925




Cond. 8.5


$

35

9.

(Above text, in it's entirety, property of www.oaktreevintage.com / Oak Tree Enterprises, LLC. See 'Copyright Information' page for details)







NEW ADDITION 12/7/12
(Click on above thumbnails to enlarge photos)


warranty
WARDS 8-TRACK STEREO PLAY / RECORD DECK
WARDS MODEL GEN-6829A
#...6613
Circa early-mid 1970's
SOLD 1/10/15
SHIPPING TO NORTH CAROLINA
Our technician has completely gone through and 'Certified' this unit. We have completely and extensively gone through the mechanicals and electronics of this unit. Entire transport was disassembled down to the chassis, and every mechanical part was cleaned, re-lubed and reassembled.

- Entire transport and mechanism has been disassembled, cleaned, re-lubed and de-magnetized.
- Program change mechanism / elevator cleaned and re-lubed for trouble-free program changes.
- Internal Linear Record switch cleaned
- Capstan motor inspected and re-lubed.
- Flywheel / Capstan removed, cleaned, burnished / retextured and re-lubed.
- Flywheel thrust plate bearing surface cleaned and re-greased.
- New, main drive belt installed for trouble-free service.
- Heads have been cleaned and de-magnetized and are in great shape.

- Head azimuth, track alignment, cross-talk, and signal phase for optimum performance and the best high-frequency response (not normally expected from 8-track cartridge performance).

- All internal playback / output level pots all adjusted utilizing dual-trace oscilloscope and factory test tone tape.
- Records great with the following test results after adjusting heads and internal level controls; 13d @ 1kHz, and ~0dB with CD Recorded Material!
- All track indicator, meter and other indicator lamps replaced with new bulbs and respond to program / track changes.
- Tape speed tested with factory 1kHz test tape for 95.3% accuracy.

This machine would be good for burning your personal stereo 8-track collection to CD or simply for listening to your stereo tapes. Also great for making 'NEW' 8-track decks especially for your 'muscle car' with it's original 8-track deck. Deck looks good and works GREAT!
_____________________________

Fine performing, Wards 8-Track Tape Cartridge Recorder / Player deck. Following extensive restoration, we recorded from a CD onto a new 8-track cartridge and it sounded as good as a cassette and many Reel to Reels! Great for making "new" 8-track tapes for listening in your vintage or muscle car.
Features include:

- Recording Capable
- Separate L & R Input record level controls
- Auto Record levels for worry-free recordings
- Auto-Stop on Recording, so you don't accidentally 'record over' already recorded tracks.
- Pause function
- "Locking" Fast Forward (this is a must have for burning tapes to CD or Hard Drive so you're not waiting for a tape to play thru at normal speed)
- L & R 1/8" microphone inputs mounted on the front panel

Again, we have completely gone through this unit, refurbishing and then testing with amazing results for an 8-track. This machine would be perfect for burning your 8-track collection to CD or computer and making new tapes for your show / muscle car. Looks good and works GREAT! Includes our standard 90 day limited warranty. Measures 15.25" wide x 14.5" deep x 3.5" high and weighs 6 lbs unpacked.
WARDS GEN-6829A 8-TRACK CARTRIDGE DECK
Cond. 8.5
SOLD 1/10/15
SHIPPING TO NORTH CAROLINA

(Above text, in it's entirety, property of www.oaktreevintage.com / Oak Tree Enterprises, LLC. See 'Copyright Information' page for details)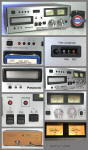 NEW LISTING 5/25/12
(Click on above thumbnails to enlarge photos)


warranty
PANASONIC
8-TRACK TAPE CARTRIDGE STEREO
PLAY / RECORD DECK
MODEL RS-808US
WITH LOCKING FAST FORWARD! and
'AUTO STOP'
#...8624
Circa 1978-82
MIJ
SOLD 4/29/14
SHIPPED TO INDIANA
Our technician has completely gone through and 'Certified' this unit. We have completely and extensively gone through the mechanicals and electronics of this unit. Entire transport was disassembled down to the chassis, and every mechanical part was cleaned, re-lubed and reassembled. We have completely gone through it cleaning all and adjusting the head azimuth & track cross-talk for optimum performance and the best high-frequency response (not normally expected from 8-track cartridge performance). Head azimuth, track alignment, signal phase and internal output level pots all adjusted utilizing dual-trace oscilloscope and factory test tone tape, multiple factory recorded tapes and headphones. External input level potentiometers, internal PB level, meter VR's adjusted w/ factory test tone tapes and an O-scope and cleaned. Entire transport removed and mechanism has been cleaned, re-lubed and de-magnetized. Entire 'Rec Lock' and 'Pause' mechanism disassemble, cleaned of old lube and re-lubed. Program change mechanism cleaned and re-lubed for trouble-free program changes. Flywheel / Capstan cleaned, burnished and re-lubed. New, main drive belt installed for trouble-free service. All original program, meter and record lamps work fine and respond to program / track changes. Heads have been cleaned and de-magnetized and are in great shape. Plays and records very well. Tape speed tested with factory 1kHz test tape for reproduction at 1007Hz or 99.3% accuracy. Meters even w/ factory test tone tape. Floor noised tested to a mere 00.1mVAC on both channels at 75% output and only 00.3mVAC at 100% output. Deck looks good and works GREAT!
_____________________________

Great quality 8-track cartridge deck. This is a great deck for transferring a large amount of tapes to another media as it has two very important features. 'Locking' Fast Forward and 'Auto Stop'. These features are used to find the beginning of track one without going past the beginning of the next track. Trying to do a lot of transfers, as a business without those two features will cost a lot of time / money!
Features include:

- Stereo Playback & Recording
- Back-lit, analog VU level meters
- Separate L & R controls for Input / output level
- Locking Fast Forward
- Auto-Stop
- Dual 1/8" microphone inputs mounted on the front panel
- 1/4" Stereo Headphone jack
- Rear mounted RCA I/O's

Again, have completely gone through it making ready for listening to your 8-Track tape collection or for burning your tape collection to another media. Also great deck for burning your 8-track collection to CD or for making 'NEW' / 'MODERN' 8-track tapes for your 'muscle car'. Looks good and works GREAT! Includes our standard 90 day limited warranty. Measures 12.5" wide x 9.5" deep x 4.5" high and weighs 9 lbs unpacked.
PANASONIC RS-808US 8-Track Tape Player
Cond. 8.5
SOLD 4/29/14
SHIPPED TO INDIANA

(Above text, in it's entirety, property of www.oaktreevintage.com / Oak Tree Enterprises, LLC. See 'Copyright Information' page for details)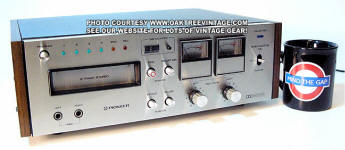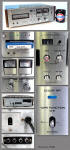 NEW ADDITION 11/30/12
(Click on above thumbnails to enlarge photos)


warranty
PIONEER
8-TRACK CARTRIDGE STEREO
TAPE DECK
MODEL RH-65
WITH LOCKING FAST FORWARD! and
"AUTO STOP"
Circa 1978
"WORLD AC POWER" ™
MIJ
SOLD 1/29/14
SHIPPED TO MONTANA
Our technician has completely gone through and 'Certified' this unit. We have completely and extensively gone through the mechanicals and electronics of this unit. Entire transport was disassembled down to the chassis, and every mechanical part was cleaned, re-lubed and reassembled.

- Entire transport and mechanism has been disassembled, cleaned, re-lubed and de-magnetized.
- Program change mechanism / elevator cleaned and re-lubed for trouble-free program changes.
- Internal Linear Record switch cleaned
- Capstan motor inspected and re-lubed.
- Flywheel / Capstan removed, cleaned, burnished / retextured and re-lubed.
- Flywheel thrust plate bearing surface cleaned and re-greased.
- New, main drive belt installed for trouble-free service.
- Heads have been cleaned and de-magnetized and are in great shape.

- Head azimuth, track alignment, cross-talk, and signal phase for optimum performance and the best high-frequency response (not normally expected from 8-track cartridge performance).

- All internal playback / output level pots all adjusted utilizing dual-trace oscilloscope and factory test tone tape.
- Records great* with the following test results after adjusting heads and internal level controls; +2d @ 1kHz, 0dB w/ full bandwidth Pink Noise, and ~0dB with CD Recorded Material!
- All track indicator, meter and other indicator lamps replaced with new bulbs and respond to program / track changes.
- Tape speed tested with factory 1kHz test tape for 98.5% accuracy.

Note: Counter disconnected. This model along with a few other Pioneer tape decks utilize a 'tape counter' that has an issue with a nylon gear that 70%+ of the time will be cracked as it's fitted to a metal shaft. Once the gear splits, it jams up and the counter sticks. Even if we were to change it, it would just happen again, so RH-65's and a couple of other Pioneer decks are sold with defunct counters. There are two types of Pioneer 8-track tape counters. Those that have already have cracked gears and those that are just about ready to have cracked gears. The "work-around" for this is to remove the linkage belt, thus rendering the counter as a "wall flower".

This particular RH-65, #...5096 is a great recording 8-Track deck after restoration. Records great with the following test results after adjusting heads and internal level controls; +1dB @ 1kHz. Dolby circuit is exceptional sounding on this particular deck. With exception of the above mentioned counter issue and "Auto-Stop" all functions test fine and everything works GREAT!
_____________________________

Decent performing Pioneer / Centrex RH-65 8-track. Great for listening to your tape collection, burning your tapes to another media or for making "new" 8-track tapes for listening in your vintage or muscle car.
Features include:

- Dolby Noise Reduction for Playback or Recording
- Dual analog VU level meters
- Locking Fast Forward
- Locking Pause
- Front-mounted, separate Left and Right level controls the input recording signal
- Front mounted, 1/4" stereo headphone jack
- Dual ¼" microphone inputs mounted on the front panel

SPECS:
Track system: 8-track, 2-channel stereo tape deck
Number of Heads: 2
Noise Reduction Type: Dolby
Transport Control Type: Mechanical: Fast Forward, Play, Pause
Tape speed: 9.5 cm/s (3-3/4 ips)
Wow & Flutter: <0.150% @ 3-3/4ips
S/N RATIO: >45dB w/ no Dolby NR, >55dB w/ Dolby NR
Crosstalk: >45dB
Frequency response: 30Hz to 15,000Hz (± 3dB @ 3-3/4ips)
Erase Ratio: >50dB
Input Level: Mic: 0.5 mV, Line: 100 mV
Line Input Impedance: 1000 kΩ
Line Output Level: 580mV
Line Output Impedance: 10Ω
Headphone Impedance: 8Ω
Fast-Forward Wind Time: Double Play Speed / 7.5ips

Again, we have completely gone through this unit, refurbishing and then testing with amazing "sonic" results for an 8-track. Since this unit has both "Locking Fast Forward" and "Auto-Stop", the machine would be perfect for burning your 8-track collection to CD or computer, a media transfer biz and / or making new tapes for your show / muscle car. One unique feature of this deck as opposed to many 8-tracks is that it allows monitoring of audio signal when recording. Unit looks good and sounds GREAT! Comes with a copy of the owners / users manual / spec sheet. (Tape cartridge shown in photos not included with deck) Includes our standard 90 day limited warranty. Measures 14.75" wide x 11.5" deep x 5" high and weighs 15 lbs unpacked.
PIONEER RH-65 8-TRACK CARTRIDGE TAPE PLAYER / RECORDER
Cond. 8.5
$379.
SOLD 1/29/14
SHIPPED TO MONTANA

(Above text, in it's entirety, property of www.oaktreevintage.com / Oak Tree Enterprises, LLC. See 'Copyright Information' page for details)