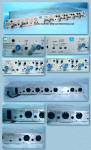 NEW LISTING 11/26/07
(click on above thumbnails to enlarge photos)


warranty
PRE-OWNED / SECOND HAND
FURMAN
X-324 X324
STEREO 2-WAY / MONO 3-WAY
ELECTRONIC CROSSOVER
MADE IN USA!
SOLD 7/12/11
Of all the crossovers out there, Furman are some of the most sought after and certainly professional you will use. Comparable to Brooks Siren or White. Full 24dB / Oct and on this particular unit a full 24dBv!!! (don't know what that means? research it or stick with a cheap, Chinese Behringer / Soundtech / Audio-Centron / etc.) If you're an audio pro, you didn't need any of that info anyway, but had to get it out of the way, since I have recently read some fairly humorous / ill-informed blogs on the web. Anyway, on to the unit. It's a Furman X-324, Stereo 2-way / Mono-3-way, Balanced I/O, crossover. I was a Furman dealer (yes, as well as a dealer for, Behringer, Yamaha, Peavey, Crate, DOD, Digitech, Alesis, Crest, Fender, QSC, Crown, EV, and about 30 others I can't think of now) and anytime I was putting together a serious rig for a client or myself, it was filtered through a Furman "Balanced" x-over.

Here's a ton of info from; http://www.wavemusic.com Check their web site when you get a chance!
Furman Signal Processing 24 dB/Octave Crossover X-324

FEATURES:

* 24 dB per octave rolloff slopes
* Peak limiters with adjustable threshold and LED threshold indicators on each output
* Slope switch gives Linkwitz-Riley/Butterworth choice
* Low Cut filters give response down 3 dB at 20 Hz, with 12 dB/octave slope
* Input and Output level controls
* Mute switches on each output with dual-color indicators
* Phase reverse switches on each output
* Compression driver/Horn EQ switches on high outputs
* De-tented frequency controls with recessed range switches
* Low Sum switch gives L+R sum in stereo mode
* Ground Lift switch
* Balanced inputs with 1/4" TRS jacks are standard

DESCRIPTION

The X-324 represents a breakthrough to the next generation of crossover design. It offers a unique combination of features geared toward making installation simple, reliable, and foolproof, while providing maximum protection to valuable speakers and drivers. It features 24 dB/octave slopes for maximum speaker/driver protection.

24 dB/octave / the X-324 has both stereo and mono modes.
Each crossover point tunes continuously over 4.35 octaves, and adds an additional 3 octave span with use of 10X range. Frequency controls use de-tented pots (41 detents) for their superior reliability and re-set-ability, and the frequency range switches (and all other front panel slide switches) are recessed to minimize the possibility of accidental actuation.

A Slope switch allows you to select either Butterworth filter response curves (constant power sum) for long throw applications, such as large concert halls, or Linkwitz-Riley curves (constant voltage sum) for near field uses, such as studio monitoring or whenever components are time or phase aligned (click here for additional information on Crossover Slope selection).

Recognizing the need in large multi-way sound reinforcement systems for control of signal peaks which can exceed a driver's power handling ability, each output of the 24 dB X-Series crossovers includes a fast-acting peak limiter. These limiters not only protect expensive drivers from damage, but also stop distortion-causing transients while having minimum effect on the rest of the program. Screwdriver-adjust Limiter Threshold controls for each output, variable from -20 to +20 dBu, allow customizing the maximum output level to match any combination of amps and drivers. This feature allows your system to run louder and longer, while giving protection from catastrophic failure. An LED next to each output level control indicates when limiting is taking place.

To assist in system checkout and fault identification, each output features a Phase Reverse pushbutton and a Mute pushbutton. The Mute buttons have dual-color LED indicators that glow green to indicate normal operation and red when the associated output is muted.

A switch-selectable function called Horn EQ conveniently eliminates the need for an outboard equalizer to achieve the compensation (see Specifications) needed when using compression drivers.
On the rear panel, a Low Sum switch operational in stereo mode gives the option of summing the low frequency left and right outputs together and feeding the L+R mix to both low outputs. This choice generally has negligible effect on stereo separation since there is little directional content in the lowest frequencies, and often gives more satisfactory results in stereo sound reinforcement systems by assuring that the low frequencies can be heard equally well at all locations.

A ground lift switch allows the option of isolating the signal ground completely from the chassis, eliminating hum-causing ground loops without disturbing the AC safety ground. Balanced inputs on tip-ring-sleeve phone jacks are standard. Ultra-low distortion (less than .01% T.H.D.) and noise (-78 dBu E.I.N.) make the X-24 Series the cost-effective choice for trouble-free crossover installations.
OPTIONS

* Model X-324B: All inputs and outputs balanced with both phone and XLR connectors. Both output connectors can be used simultaneously, allowing signal splitting. Instrumentation-type differential input preamps offer extremely high common-mode rejection.
* Accessories: Models SC-1, SC-2 Security Covers: Black anodized aluminum universal security covers, for one or two rack spaces, prevent unauthorized tampering with controls. When access to the controls is required, the SC-1 or SC-2 may be removed with a screwdriver, without dismounting the underlying equipment from its rack (not currently available from Oak Tree).

X-SERIES SPECIFICATIONS:

Un-balanced Input impedance: 10K Ohms tip to ground, 20K ohms tip to ring. Maximum input level: Depends on level control. Gain: 6 dB maximum. Connectors: 1/4" TRS phone only.

Balanced: Differential input impedance: 20K Ohms. Maximum input level: 8.7 Vrms (+21 dBu) Gain: 6 dB maximum. Connectors: Both XLR and TRS phone. Common Mode Rejection: >85 dB below 500 Hz; >62 dB at 10 KHz
OUTPUTS

Un-balanced Output impedance: Less than 200 Ohms. Gain: 6 dB maximum. Maximum output level: 8.7 Vrms (+21 dBu) with a minimum terminating load of 2.5K Ohms. Connectors: 1/4" TRS phone.

Balanced Output impedance: Less than 200 Ohms. Gain: 6 dB maximum. Maximum output level: 17.4 Vrms (+27 dBu), with a minimum terminating load of 5K Ohms. Connectors: Both XLR and TRS phone, may be used simultaneously.
GENERAL

Freq. Response: +0, -.5 dB, 20 Hz to 20 KHz.
Distortion and Noise: Less than 0.01% THD with input and output levels up to +21 dBu, from 20 Hz to 20 KHz; less than 0.003% THD at 0 dBu input and output levels, from 20 Hz to 20 KHz.
Crosstalk: Less than -80 dB, Ch. 1 to Ch. 2 with 2 KHz tone in Ch. 1 at 0 dBu in and out.
Output Noise: -78 dBu, 20 Hz to 20 KHz, un-weighted.
Dynamic Range: 99 dB from noise floor to maximum output.
Frequency Ranges: X-324: 35 Hz to 700 Hz with X1/X10 range switch. X-424: 20 Hz to 400 Hz with X1/X10 range switch (low-mid) and 135 Hz to 2.7 KHz with X1/X10 range switch (mid-high). X-524: 15 Hz to 300 Hz (subwoofer-low) and 35 Hz to 700 Hz with X1/X10 range switch (low-mid) and 135 Hz to 2.7 KHz with X1/X10 range switch (mid-high).
Filter Slope: 24 dB/octave, switchable for Butterworth (constant power sum) or Linkwitz-Riley (constant voltage sum).
Limiter: Attack: 8 ms; Release: 1 sec.; Threshold: From -20 dBu to +20 dBu.
Horn EQ: +12 dB at 18 KHz; rolls off at 12 dB/octave above 22 KHz.
Low Cut Filters: -3 dB at 20 Hz, 12 dB/octave roll off.
Construction: Steel chassis, zinc chromate plating; 1/8" thick pale grey powder-coated steel front panel; glass epoxy PC boards.
Dimensions: 1 3/4" (X-324) or 3 1/2" (X-424 and X-524) H x 19" W x 8" D.
Weight: X-324: 7 lbs (3.3 kg). X-424, X-524: 11 lbs (5 kg).
Power Requirement: X-324: 8 Watts. X-424: 12 Watts. X-524: 16 Watts. 120 VAC 60 Hz, or 230 VAC 50/60 Hz versions available.
Safety Agency Information: UL, C-UL, and CE listed.
NOTES

0 dBu equals .775 Vrms. Outputs can be connected to less than the indicated minimum load without damage or excessive distortion, but maximum output levels will be reduced.
Again, we have gone through it inside and out. The entire unit look, performs and sounds great! You won't be disappointed in this one. Measures standard 19" rack width x 1.75" tall (1 space) x 8" deep. Includes our standard 90 day limited warranty.
FURMAN X-324
Cond. 8.5
SOLD 7/12/11