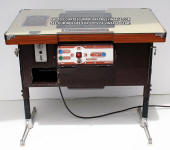 NEW LISTING 8/9/10
(click on above thumbnails to enlarge photos)
ORIGINAL / VINTAGE
NINTENDO 'DONKEY KONG'
COCKTAIL TABLE / ARCADE VERSION
JUST REFURBISHED!
CIRCA 1981

Want

a "Real" arcade game? This is a "Real" one. An original DonkeyKong, 2-Person, cocktail table from 1981.

O

ur technician just completely went through it. It was disassembled to the bare chassis and cleaned (believe me, you'll thank us). All the boards and their contacts were cleaned. He also cleaned the CRT contacts and adjusted the video 'guns' (prior to this it was only showing faint 'blue' color video). Servicing also included cleaning and adjusting all internal, PC mounted, 'micro-pots' for all functions, set screen 'bias' and 'drive' controls, and focused the CRT. He also optimized all sync adjustments including adjusting the vertical and horizontal positioning circuits. All questionable solder joints were 're-flowed', repaired an intermittent CRT signal connector. The tech also removed the 'coin' mechanism and installed a 'Re-Set' button where the 'coin return' button was, so no coin is needed to operate (the coin box door was missing when it arrived, but the box is still in the cavity even though not shown in photos). He also installed brand new 'top locks' with new security keys. New wood grain trim was also added to the edges of the tables. Original glass top in great condition with a few, typical surface scratches, but nothing at all distracting. No cracks anywhere and no chips to the edges! All 4 original chrome corners clean, shiny and intact (again, all those parts were completely disassembled and cleaned inside and out). The rest of the unit is original and shows normal, light wear to the finish. Now it works, and plays great. Controls completely responsive, and video screen looks crisp with great color and contrast. The sound is flawless and the speakers sound fine, as they should. Should be great for many years to come, if taken care of.

These

machines are BIG and

Heavy! Measures 34"w x 23"d x 30" tall and weighs 113 lbs. Normally everything get's shipped, without exception, but we would welcome local pick-up on this in Colorado Springs, Colorado.


NINTENDO 'DONKEY KONG' TABLE VERSION
$549.

How to Play Donkey Kong:

You are a workman named Mario who climbs girders and ladders and will stop at nothing to save his stolen love from the clutches of the giant ape.

Using the joystick and the Jump button, you maneuver Mario over rolling barrels, away from falling barrels, over or away from fireballs and cement tubs, away from bouncing rivets, up and down ladders, along girders and conveyor belts, onto elevators, over rivets to remove them and over dangerous crevices, to get to where the ape holds the girl captive. For additional points, Mario gathers umbrellas, hats, purses and other bonus items that the girl has dropped on her way to the top of the building. Mario can also grab a hammer (by jumping up to it) to smash barrels, fireballs, and cement tubs for additional points but the hammer can only be used for a limited amount of time.

On the Girder, Elevator and Conveyor Belt levels, whenever Mario reaches Pauline, Donkey Kong will grab her and carry her off to the next higher level. But on the Rivet level, Mario must remove all the rivets on each and every floor by running or jumping over them. After all the rivets are removed, Donkey Kong will fall head first onto a stack of girders and be knocked out and then Mario and Pauline will be together again for good. Afterwards, the game starts over again, with increased difficulty.