COFFEE GRINDER GRINDMASTER 875
COMMERCIAL COFFEE GRINDER
USED / PRE-OWNED

Commercial Coffee Grinder; Pre-owned / Second hand Grind-master 875 Commercial Coffee Grinder Grind Master 875


NEW LISTING
(click on above thumbnails to enlarge photos)


PRE-OWNED / SECOND HAND


GRINDMASTER / BROTHERS 875 COMMERCIAL COFFEE GRINDER
11 settings - Coarse to Turkish including Espresso!

SOLD 5/27/10

Want to set up the ultimate "coffee house" in your house? Gotta' have a commercial grinder and 875's are considered to be the one!

Of course they're also great for Commercial Coffee Houses, HIGH Volume Specialty coffee & retail Shops.

Does 11 grind grades and is powered by an 8 amp / 1/2" hp motor! While this unit does run well and is grinding well, it's not a bad idea to have them professionally gone through and adjusted so you know the grind grades are perfect of your needs. We did disassemble the grind mechanism and clean out all the old coffee oil residue and clean all with solvent so the grind selector mechanism moves and adjusts freely. We ground about 5 lbs of coffee to do our adjusting, but again to be completely accurate, it should be professionally adjusted or follow the manufactures instructions to do the adjusting yourself. Grind teeth and mechanism looks great and original OEM sheer disc intact with no stress marks! Unit looks good with a few minor scuffs / scratches. In case you're not aware of it, these machines are BIG and not going to fit on the counter under most kitchen cabinets, so just be prepared! This unit measures
27" (30" w/ lid open)
tall x 15" deep x 7" wide and weighs 50 lbs unpacked.
This is the third one we've had in 12 years. Runs well (ie; very fast!). This grinder is in very good shape. While there are abbreviated instructions on the back of this unit for disassembling, maintaining and reassembling the grind mechanism, it would be a good idea to obtain an owners / users manual to get the full benefits of owning / using this machine.

- Separate start / stop push buttons
- Heavy-Duty 1/2 HP motor! 115VAC, 8 Amp Motor so it works on your standard kitchen outlet. No need to call the electrician!
- 11 Grind settings from coarse to Turkish
- Use with coffee bags up to 14" tall
- 3 lb. capacity hopper has steep slope to promote positive bean flow
- Grinding automatically stops when coffee bag is removed
- Bag Height: Minimum 8 1/4" & Maximum 14"
GRINDMASTER 875

SOLD 5/27/10
LINKS TO OUR 'HI-FI' DEPARTMENTS

Wondering where the "tone" you remember went?....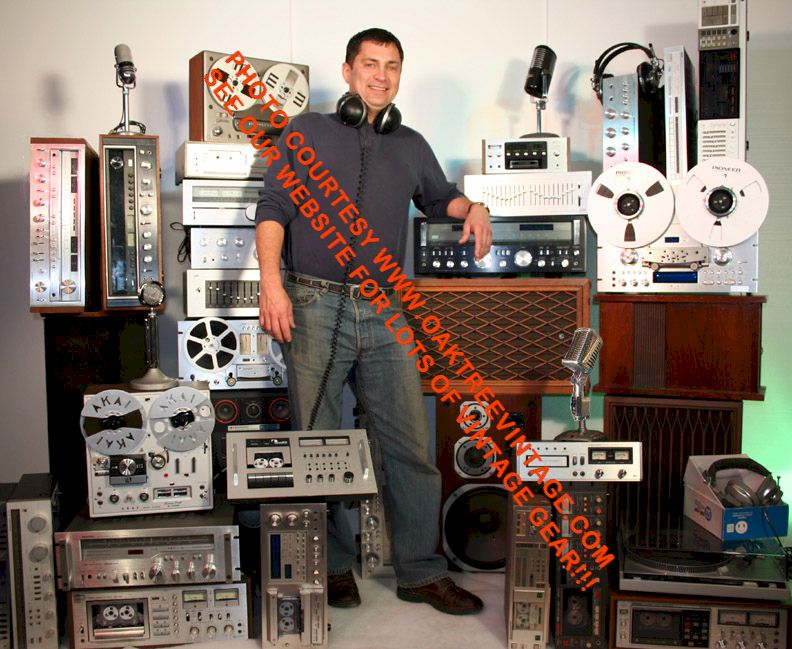 .... Surround yourself with Silver and find it again!


POLICIES, SPECIFICATIONS, AVAILABILITY, INFORMATION
AND PRICING SUBJECT TO CHANGE AT ANYTIME AND WITHOUT PRIOR NOTICE
and changes may not be posted to web immediately.
20-30% restock fee / service charge applies to all returns for refund depending on item specifics & / or individual distributor / drop shipper policies.
See our "Warranties / Returns" page via the link below for more details.

$20. Minimum Orders








*HOME PAGE* | CONTACT & ORDERING | PARTS CONTACT | FAQ'S I SELLING-TRADING-CONSIGNING | CONDITION RATINGS | ORDERING / POLICIES | WARRANTIES / RETURNS | SHIPPING | HOLD / SOLD | RESTORATION PROCEDURES I LINKS | CLIENT LIST |

Copyright © 1997-2017 Oak Tree Enterprises, LLC
COPYRIGHT INFORMATION
Please be patient while page loads . . .