Purveyors of Electronic, Musical and Vintage goods from then, now and in between.
Since 1982.

OAK TREE'S OWN LISTENING /
AUDITIONING SYSTEM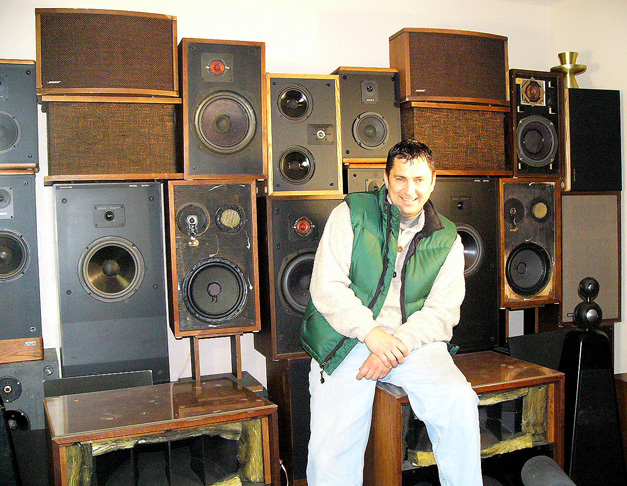 "What no 162.9" Flat Screen, LCD / LED / PLASMA-FLUX-CAPACITOR TV?"...
"You mean you are just supposed to listen to it?..."

Hi, I'm Jerry Gahagan, founder of Oak Tree Enterprises LLC. I have sold gear, in the retail environment for since the early 1980's (yes, after most of the GREAT and CLASSIC vintage audio gear had been discontinued :-( ) , but never had a selection of speakers and electronics that covered so many brands. As a dealer, you have many models from a few manufacturers. However, as most of us know, most manufacturers had only 1 or 2 models that are now "classics" out of their entire line. Now, I am able to assemble 1 or 2 of the "classic" models, without dictation by any single manufacturer. This will likely feature a constantly changing lineup of gear.
Now to address the original two questions. The general public has allowed advertising to convince us that we need constant "sensory overload" all the time in order to enjoy our selves. "Big Box" audio stores stock inventory that follows this general trend. Just try and find a simple 2 channel audio receiver or system in a typical "mega mart" electronics store. It is generally going to be assumed that you are going to also need a system to watch movies on as well, so you may as well look at a system that "does it all". I won't go into the "pros" of having a dedicated system for 2-channel audio listening here and the "cons" of trying to use your surround sound, DBX, Dolby, THX, 5.1, 6.1, 7.1 or 8.BR549, system to do it. That's another rant for anyone who doesn't already know the drawbacks. The real loss is the simple "relaxation" factor you get from simply "listening" to good audio recordings through a system sufficient to reproduce them adequately. When sitting in my Eames Lounger (yeah, unfortunately it's a copy), listening to this system with a good Single Malt and a decent cigar, I can't imagine being distracted by some video screen glaring at me. It would be completely distracting when trying to "soak in" the music coming from vinyl or CD.
This system is not meant to be a "High End" audio system by any means, so you serious Audiophiles, just settle down. It's a "Mid-Fi" system. With the exception of the Green Mountain Audio "Continuum 1" speakers, it's meant to be a reference system utilizing gear that was financially "reachable" by the mainstream audio listener who appreciated listening to music on better than average audio equipment, but didn't want to spend half the price of a car, or more on each component. Just FYI, there are Amplifiers for $125,000 (per side), Pre-Amps for $30,000, Cartridges up to $15,000+, Turntables up to $150,000, Speakers up to $250,000, Tuners up to $8,000, meter long RCA patch cables for >$50,000 (yes, really! I've seen them) and replacement AC cords for $6000 out there, if that helps put this system in perspective. With the exception of the Green Mountain Audio speakers, this entire system or one similar to it, could be put together maybe in the $4000-$8000 range. That is of course from a reputable dealer who has completely serviced, tested and is willing to back it up with a warranty.

This will be the system that our speakers "for sale" will be auditioned on and will be against popular / classic "benchmarks" for reference.
Current speaker line-up:



Speakers: 1-10 positions; Advent "The Loudspeaker" (Utility cabs), AR-"2ax", Boston "A100 series III's", Bose "301" Original Series, Bose "901" Original Series (yes, I know they're placed completely wrong in the photos), DCM "Time Windows", Polk Audio "SDA Compact Reference System's", Green Mountain Audio "Continuum 1's" (currently awaiting new mounts for the mid / tweet array's. That's why only the bottoms are shown in photos) and Sansui "SP-3500's".
Yes, there are other speakers visible in the photo in the back row, but they are simply being used as stands. We will be soon building a rack system to hold the speakers in a better fashion, not just for aesthetics, but sonics as well.

Media used: Lots of MSFL (Mobile Fidelity Sound Labs) vinyl, Nautilus "Half Speed Mastered" vinyl, New Japanese, British & German, virgin, 180gram vinyl and "Reference Recordings" CD's and SACD's. We also have numerous test records and CD's by many manufacturers.

There are many other speakers that I would love to have in the system as well. Unfortunately they number about 50. I will acquire more of them as resources allow. Some of them will be; Klipsch "Heresy's" and "La Scala's" or "Belle's", Pioneer "CS-901's", "CS-63DX" & "HPM-100's", "JBL L100's", Ohm "I's", Infinity "Reference Series / RS-III's", Boston "A40's", Auratone "RC-5", Sansui "SP-2000", Sansui "SP-5500", Bose "501 Series III", Yamaha "NS-10's" and NS-1000's, Polk SDA "Signatures", Magnapan "MG-1's", and some A/D/S models just to name a few.
Some of these speakers will be in the line-up, not because I particularly care for their sound. Some I like, some I love, some I dislike completely, for various reasons. Some I only enjoy for certain "cuts". Believe me the Bose "301's" and "901's" are not in my current line-up because I necessarily like to listen to them, but simply for comparison / reference purposes.
Please do not email to get my opinion on each of these models or to find out if a speaker will be added because I like or dislike it. Sometimes I won't even know the answer to that myself. In fact, having this system has changed my opinion on many speakers I either thought I historically liked or disliked. I am finding that it depends not only on the type of music I'm listening to, but the recording quality / technique of the media I'm listening to. Sorry. In fact listing the above info may be a bad idea for a myriad of reasons. We'll see. I'm sure it has already offended plenty of people. Anyway, after 3 Single-Malt scotches, all speakers sound great! Right?


Just added Klipsch "Heresy's", Bose 501's, Sansui SP-3500's, a/d/s L980's, Advent "Smaller Loudspeakers", JBL 4313, Rectilinear III's, Pioneer CS-88a's and HPM-100's to the lineup recently.

__________________________________________________________________________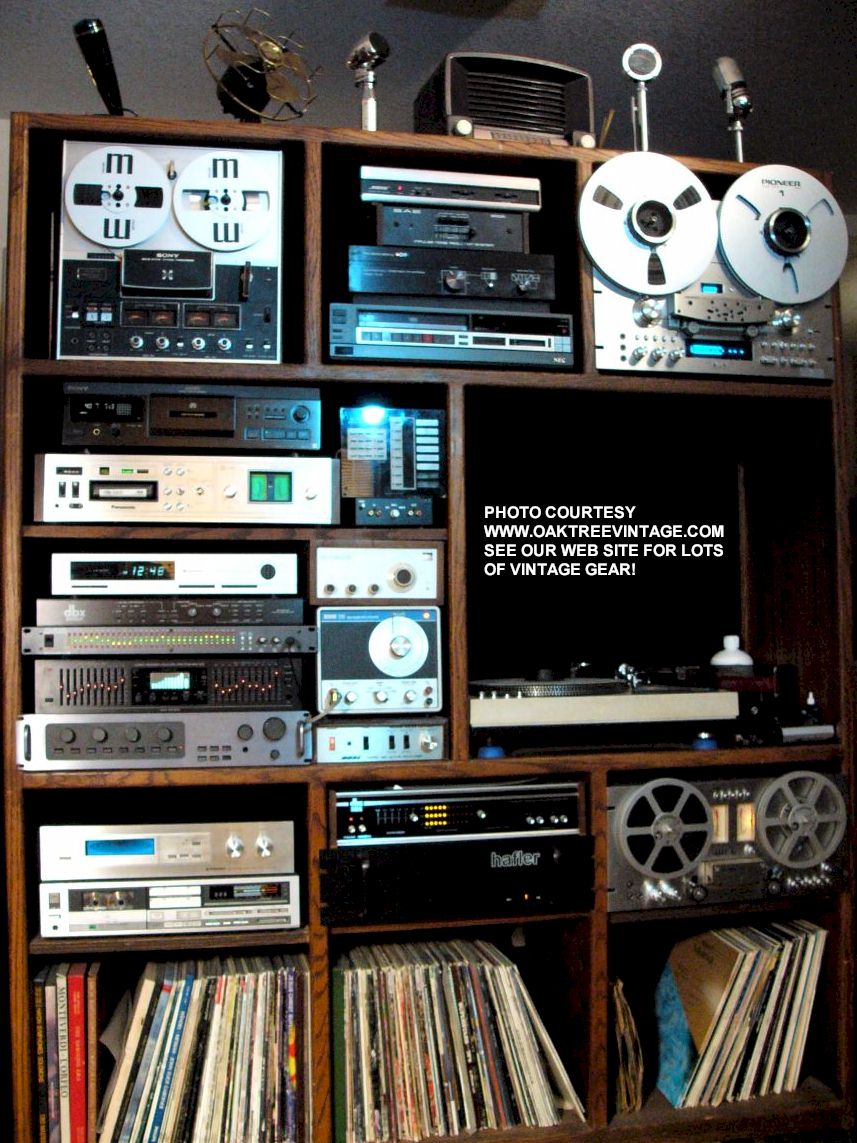 Current Electronics line-up:

Speaker / Source Switching: Audio Authority 903 Switcher w/ 932 speaker relays, DBX 200X source switcher (sometimes DBX DAV-600)
Amplification: Pre-amp; Carver C-1 soon to likely change to a Phase Linear 4000. Power-Amp; NOW CHANGED TO DH500.

Turntable and associated gear: Current turntable Cartridge line-up is a Grace F-9, an Audio Technica AT-440mla, "AT-120E" & "AT-71", Shure "M75ED II" & Grado "F3+" cartridges all loaded on head-shells and ready to use. Turntable; Kenwood "KD-550" 'Concrete Base' (not really concrete, but that's what it was / is commonly referred to as) Turntable with Anti-Static Felt mat and HK Disc Clamp. Music Hall "mmf Phono Pack" cartridge "Head Amp" (will be utilized when next moving coil cartridge is added) & SAE 5000A Impulse Noise Reduction Unit, & complete Discwasher record cleaning system with "Zerostat gun".
Tape Playback units: Pioneer RT-909 Reel to Reel, Sony TC-277-4 "Quadradial" 4-Channel Quadraphonic / Stereo Reel to Reel Deck, Pioneer RT-701 R2R, Technics / Panasonic RS-855US Stereo / Quad 8-Track deck & a Technics "RS-M245X" DBX Cassette Deck for decoding DBX encoded LP's. Also for Hi-Fi VHS (audio ONLY tapes) is an NEC HiFi VHS N895EU deck.

Tuner and associated gear: KLH "Eighteen" FM tuner, BIC FM-10 "Beam Box" Electronically Directional FM Antenna. Also not shown is an outside "Folded Di-Pole / Omni-Directional" antenna on a mast. That is always an aspect of the system that is in flux.

Digital media Playback: Sony XA20ES CD player w/ stabilizing weight

Signal Processing Units (not necessarily utilized): DOD 1/3 Octave RTA Spectrum Analyzer, Dual 12-Band Graphic EQ (brand and model changes periodically, but in photo is BSR EQ-3000), dbx 3BX Dynamic Expander unit, Pioneer SR-303 Reverb / Delay unit, Bose "901E" Series V EQ (for use when I'm using those gawd-awful Bose 901's), Kenwood AT-80 Digital Clock / Timer, Sansui QS-500 Quad de-coder / Rear channel Amp (not currently connected or in photo)
Misc Units: RCA "WA-504R" AF generator used to test for speaker issues and resonance.


SPEAKER SURVEY

We are working on an additional project / aspect to this. We welcome you to email us with your list of favorite speakers (brand / model). We are looking for your favorite 3-20 models from the very late 1960's into the late 1980's. Please no A/V speakers, custom made, home-made, one-off or anything modern.
Also, we are aware that there are many "boutique" and high end speakers that, while also marvelous, were not available to a wide market, so would not be as appropriate for this inquiry. This list we are putting together is the "every-man's" (or every-woman's) type of speakers that were in production and available at most audio stores at the time that originally sold in the price range of $150 to $4000. We're not sure exactly what we're going to do with the list, just curious. Thanks in advance for your time.

OK, FINALLY WE'RE POSTING THE RESULTS UP TO THIS POINT (keep sending them in as we'll keep updating)! IT WILL TAKE A WHILE TO COMPLETE, BUT HERE'S A LINK TO THE PAGE WHERE WE'RE POSTING THEM; http://www.oaktreevintage.com/favorite_home-audio_speaker_survey.htm


sales@oaktree

vintage

.com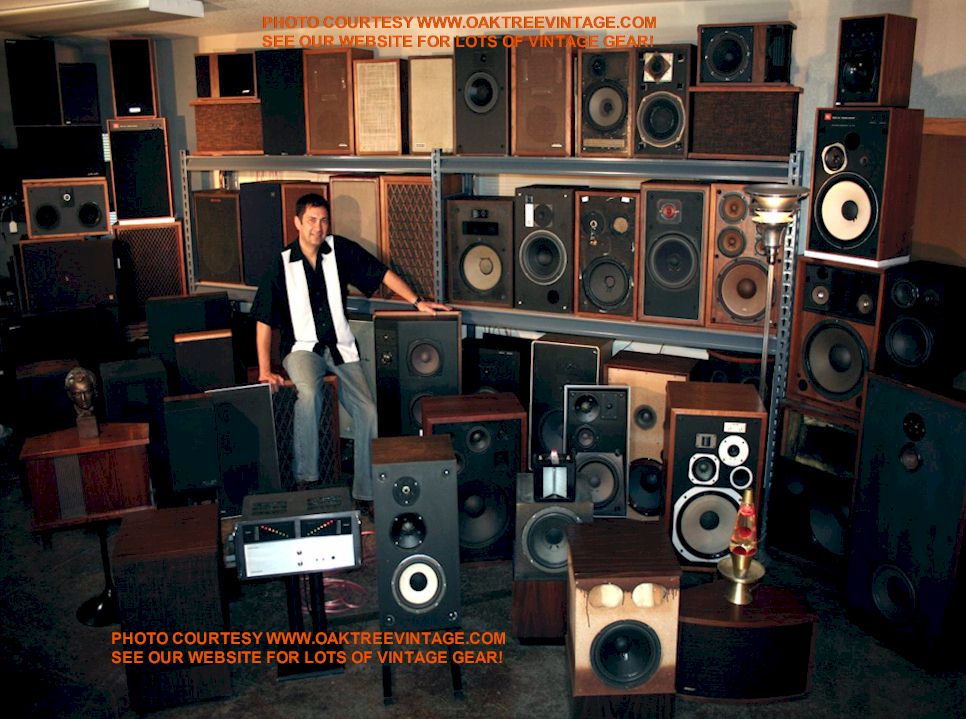 Jerry Gahagan of OakTreeVintage
Taken in portion of Speaker Audition Room
Vintage Home Audio Speakers from the late 1960's into the 1980's
OUR PRIVATE LISTENING / AUDITIONING
SYSTEM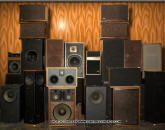 LINKS TO OUR 'HI-FI' DEPARTMENTS

Wondering where the "tone" you remember went?....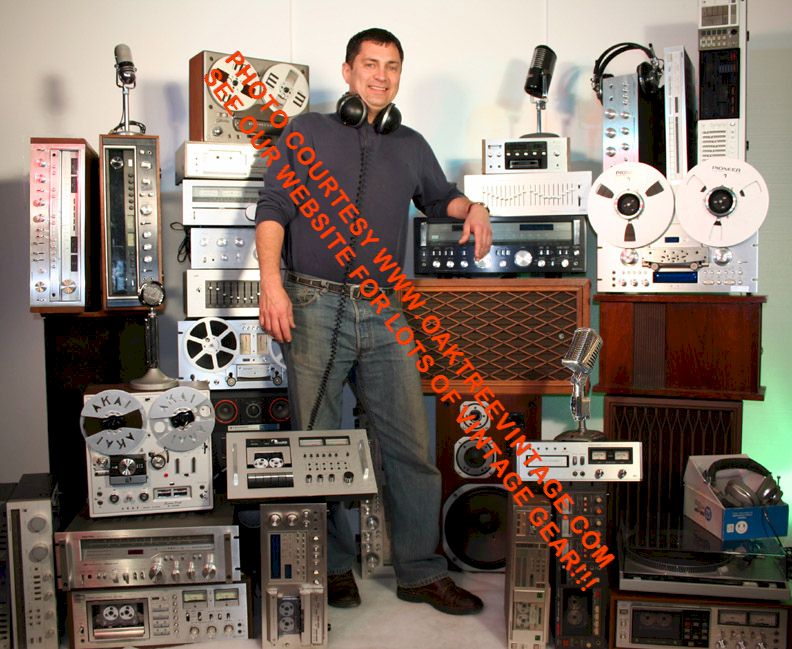 .... Surround yourself with Silver and find it again!


POLICIES, SPECIFICATIONS, AVAILABILITY, INFORMATION
AND PRICING SUBJECT TO CHANGE AT ANYTIME AND WITHOUT PRIOR NOTICE
and changes may not be posted to web immediately.
20-30% restock fee / service charge applies to all returns for refund depending on item specifics & / or individual distributor / drop shipper policies.
See our "Warranties / Returns" page via the link below for more details.

$20. Minimum Orders







*HOME PAGE* | CONTACT & ORDERING | PARTS CONTACT | FAQ'S I SELLING-TRADING-CONSIGNING | CONDITION RATINGS | ORDERING / POLICIES | WARRANTIES / RETURNS | SHIPPING | HOLD / SOLD | RESTORATION PROCEDURES I LINKS | CLIENT LIST |

Copyright © 1997-2021 Oak Tree Enterprises, LLC
COPYRIGHT INFORMATION