Purveyors of Electronic, Musical and Vintage goods from then, now and in between.
Since 1982.

FULLY SERVICED / WARRANTED


STEREO AUDIO GEAR / EQUIPMENT
VINTAGE / CLASSIC / PRE-OWNED / SECOND HAND

Vintage Stereos / Classic Audio & Used / Pre-owned / second hand Home Audio Components primarily from the 1960's, 1970's & 1980's. Hi-Fi Stereo Speakers / Receivers, EQ's equalizers, reverbs, pre amps, power amplifiers, tuners, turntables, record players, reel to reels, cassette tape decks, speakers / studio monitors. Fully Certified and 'Ready to Go' Sixties, Seventies, Eighties Solid state stereo / home audio equipment and occasionally tube gear. Most items will include our standard Pre-owned-Certified equipment warranty.


"Disappointed with the recent state of Hi-Fi design? Long for the days when audio equipment had real knobs you could grab hold of, and when a piece of gear looked liked it was milled from a solid chunk of metal instead of some fragile piece of plastic with a bunch of LEDís stuck on it?"
Well us too!!!

"Just bought that new, "State of the Art", Video / Audio, Surround-Sound system 5.1, 6.1, 8.1 10-4, 10-100 or whatever they're calling it. Wondering "how do I simply play a record or CD through these small video speakers and have it sound good (or even decent)"? Just replaced your old 70's gear and wonder where your "tone" went when listening to your CD's, tapes and LP's (assuming your new unit even has a phono input)?
CLICK ONE OF THE DEPARTMENTS BELOW TO FIX IT!




Jerry Gahagan of OakTreeVintage
Taken in portion of Speaker Audition Room
Vintage Home Audio Speakers from the late 1960's into the 1980's
LINKS TO OUR 'HI-FI' DEPARTMENTS

Wondering where the "tone" you remember went?....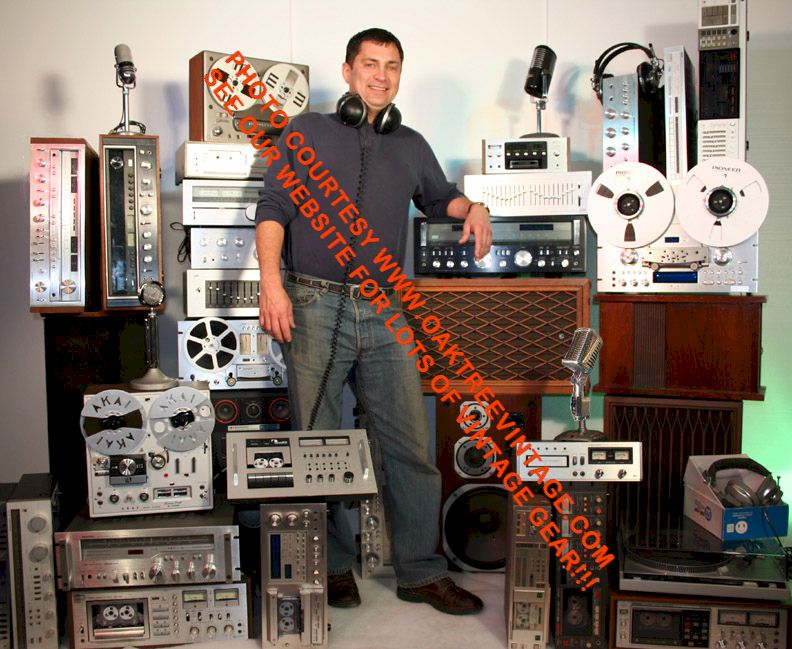 .... Surround yourself with Silver and find it again!


POLICIES, SPECIFICATIONS, AVAILABILITY, INFORMATION
AND PRICING SUBJECT TO CHANGE AT ANYTIME AND WITHOUT PRIOR NOTICE
and changes may not be posted to web immediately.
20-30% restock fee / service charge applies to all returns for refund depending on item specifics & / or individual distributor / drop shipper policies.
See our "Warranties / Returns" page via the link below for more details.

$20. Minimum Orders








*HOME PAGE* | CONTACT & ORDERING | PARTS CONTACT | FAQ'S I SELLING-TRADING-CONSIGNING | CONDITION RATINGS | ORDERING / POLICIES | WARRANTIES / RETURNS | SHIPPING | HOLD / SOLD | RESTORATION PROCEDURES I LINKS | CLIENT LIST |

Copyright © 1997-2021 Oak Tree Enterprises, LLC
COPYRIGHT INFORMATION