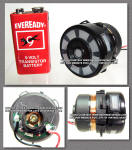 NEW LISTING


(Click on above thumbnails to enlarge photo

. Battery only shown for scale. Element does not require a battery

)
MICROPHONE ELEMENT
REPLACEMENT DYNAMIC MICROPHONE ELEMENT
for sale
This is a great replacement microphone capsule for many applications where a dynamic element for live sound is needed. The element is surrounded in a rubber sleeve with flexible mounting loops located at quadrants. We have used these in numerous Vintage EV mics with success.

Here are the specs:

Applications: Vocal / Speech
Type: Dynamic Moving Coil
Frequency Response: 50-16,000 Hz when installed in an appropriate mic body with correct air space
Polar Pattern: Uni-Directional / Cardioid
Impedance: ~370 Ohms +/- 20% (low Z)
Sensitivity: -71dB +/- 3dB
Dimensions:
Overall depth / Length front to back; 40mm or 1.5".
Larger Diameter (front); 37-38mm (Slightly less than 1.5").
Smaller Diameter at rear of microphone element; 31.5mm / 1.25".
Weight ~1.5 - 2 ounces.

These are great for retrofitting into old / vintage microphones that have dead, broken or missing microphone capsules / elements (as long as space will allow). Great for replacing old crystal microphone elements and bringing life back to that cool, mic body. Revive that old Astatic 77, Calectro Q4, Calrad DM-11, DM-16, EV-630, EV 726, EV 950, and many other mics. Also great for fitting into the "Pill Mics" such as the Calrad 500C, Kent M-18, Lafayette 99-4545, Olson M-104, Rauland 1248, Realistic 33-929, 33-905, Shield MC-80 and likely many, many others. Please do not email to ask if the element will fit in your 'xxxx' microphone, as beyond the above info, we won't know. Also, we won't have any advice nor instructions on 'how to do it' as each case will be require different 're-engineering / strategies'. Study the photos and dimensions listed above carefully for possibilities.
The photo on the above, right shows a possible installation. The mic body and hardware shown in photos are not included or available.
NEW

$39.99 each plus shipping*
AS OF 2/22/17 NONE REMAINING IN STOCK.
PLEASE DO NOT "BUY NOW" UNTIL WE REMOVE THIS NOTICE.
*Shipping to domestic / USA locations.
For other shipping destinations / countries, please call or email for shipping cost.
IF YOU PREFER TO PLACE YOUR ORDER BY PHONE,
PLEASE CALL US AT:
(800) 806-4231
(719) 362-5565
- Press Option '2' for 'SALES' to order -