Purveyors of Electronic, Musical and Vintage goods from then, now and in between.
Since 1982.

MICROPHONE ELEMENT
DYNAMIC, REPLACEMENT MIC CAPSULE FOR CUSTOM MICROPHONES AND REPAIRS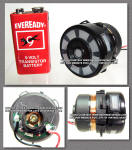 NEW LISTING


(Click on above thumbnails to enlarge photo

. Battery only shown for scale. Element does not require a battery

)
MICROPHONE ELEMENT
REPLACEMENT DYNAMIC MICROPHONE ELEMENT
for sale
This is a great replacement microphone capsule for many applications where a dynamic element for live sound is needed. The element is surrounded in a rubber sleeve with flexible mounting loops located at quadrants. We have used these in numerous Vintage EV mics with success.

Here are the specs:

Applications: Vocal / Speech
Type: Dynamic Moving Coil
Frequency Response: 50-16,000 Hz when installed in an appropriate mic body with correct air space
Polar Pattern: Uni-Directional / Cardioid
Impedance: ~370 Ohms +/- 20% (low Z)
Sensitivity: -71dB +/- 3dB
Dimensions:
Overall depth / Length front to back; 40mm or 1.5".
Larger Diameter (front); 37-38mm (Slightly less than 1.5").
Smaller Diameter at rear of microphone element; 31.5mm / 1.25".
Weight ~1.5 - 2 ounces.

These are great for retrofitting into old / vintage microphones that have dead, broken or missing microphone capsules / elements (as long as space will allow). Great for replacing old crystal microphone elements and bringing life back to that cool, mic body. Revive that old Astatic 77, Calectro Q4, Calrad DM-11, DM-16, EV-630, EV 726, EV 950, and many other mics. Also great for fitting into the "Pill Mics" such as the Calrad 500C, Kent M-18, Lafayette 99-4545, Olson M-104, Rauland 1248, Realistic 33-929, 33-905, Shield MC-80 and likely many, many others. Please do not email to ask if the element will fit in your 'xxxx' microphone, as beyond the above info, we won't know. Also, we won't have any advice nor instructions on 'how to do it' as each case will be require different 're-engineering / strategies'. Study the photos and dimensions listed above carefully for possibilities.
The photo on the above, right shows a possible installation. The mic body and hardware shown in photos are not included or available.
NEW

$39.99 each plus shipping*
AS OF 2/22/17 NONE REMAINING IN STOCK.
PLEASE DO NOT "BUY NOW" UNTIL WE REMOVE THIS NOTICE.
*Shipping to domestic / USA locations.
For other shipping destinations / countries, please call or email for shipping cost.
IF YOU PREFER TO PLACE YOUR ORDER BY PHONE,
PLEASE CALL US AT:
(800) 806-4231
(719) 362-5565
- Press Option '2' for 'SALES' to order -

TO SEE OTHER VINTAGE MICROPHONES WE HAVE FOR SALE CLICK HERE
LINKS TO OUR 'HI-FI' DEPARTMENTS

Wondering where the "tone" you remember went?....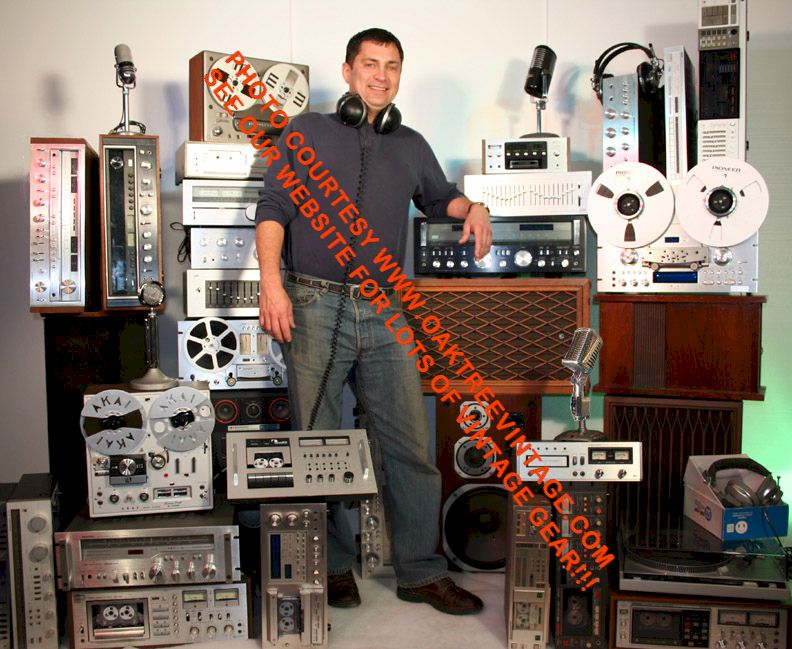 .... Surround yourself with Silver and find it again!

CONTACT INFO BELOW

$20. MINIMUM ORDER








IF YOU PREFER TO PLACE YOUR ORDER FOR THE ABOVE PARTS / ACCESSORIES BY PHONE,
PLEASE CALL US AT:
(800) 806-4231
(719) 362-5565
- Press Option '2' for 'SALES' to order -
NOT the 'Parts' option

OR EMAIL sales@oaktreevintage.com

~9:30 AM- ~7:30 PM most days COLORADO / ROCKY MOUNTAIN TIME ZONE

ALSO: When e-mailing be sure to include a relevant subject, ie: Brand / Model number / reason for inquiry in the 'SUBJECT LINE'.
SUBJECT lines left empty, or with 'single word' text like;
"Hello", "Hi", "parts", "stereo", "inquiry", "question", "selling" or similar or similar 'un-qualified' terms will automatically be deleted by Anti-Virus / Spam settings or receive 'Low Priority'.
(Subject lines left empty show up as "No Subject" and are deleted automatically by our anti-spam settings"

SPEAKER PARTS | STEREO / HI-FI ELECTRONIC PARTS | KEYBOARD PARTS
___________________________________________

Haven't received a response to your email? See FAQ'S

MAILING:
OAK TREE ENTERPRISES
PO. BOX 6182
COLORADO SPRINGS, CO 80934
U.S.A.

Before ordering by postal mail, please phone or email us about the item and the details of sending your funds. Thank-you.

SPEAKER PARTS | STEREO / HI-FI ELECTRONIC PARTS | SELLING-TRADING-CONSIGNING | KEYBOARD PARTS I FAQ'S
CONDITION RATINGS | ORDERING / POLICIES | WARRANTIES / RETURNS | SHIPPING
RESTORATION PROCEDURES | REPAIRS | CONTACT PARTS


30% restock fee / service charge applies to all 'parts' returns for refund.
Some parts are not returnable.
See our "Warranties / Returns" page via the link below for more details.

POLICIES, SPECIFICATIONS, AVAILABILITY, INFORMATION AND PRICING SUBJECT TO CHANGE AT ANYTIME AND WITHOUT PRIOR NOTICE
and changes may not be posted to web immediately. Information such as Parts Substitution possibilities, "Circa" dates, original values, etc. are to the best of our knowledge. If you are critically concerned, you should do independent research on your own prior to ordering or utilizing this information in any way. Manufacturers also are known to change part numbers, specs, circuit designs, specs etc within the same model.

Copyright © 1997-2019 Oak Tree Enterprises, LLC