Purveyors of Electronic, Musical and Vintage goods from then, now and in between.
Since 1982.

MARANTZ 2500 STEREO RECEIVER
ARCHIVE




Marantz 2500 Stereo Receiver photos, and info on unit we had for reference information, specifications / specs info.

*Note about parts / spares sales

* Our "parts units", parts / spares and related reference information are primarily archived for the purpose of restoration / repair of "Oak Tree Vintage" units first. Only if we do not have a "viable" unit in yet, either already in process or in line to be processed, that may potentially need parts from a "parts unit", will we release available parts for sale (even though they may appear as available for sale to the public). As many of you know, the restoration of a unit can be a long, time consuming process. We may "lock up" parts that we may potentially need in the restoration of a unit (and not necessarily get it marked 'Hold' or 'Sold' on the site right away). Parts are priced according to the "potential value" of the unit they can be applicable to (meaning the amount WE would be willing to pay for the part if that was all that was standing between us having a "shelved unit" or a valuable / sellable unit), time to extract, their rarity & their condition to name a few criteria and likely will be completely unrelated to the original cost / price of a part when it was currently available from the manufacturer.

Parts Photos; We get a number of requests for 'photos' of a specific part. Unfortunately, in most cases that is not practical as the amount of time involved in posting that exceeds the value of the 'unique' part. We will sometimes post photos of less 'unique' parts, if there is a greater chance of them being available in multiple quantities, or on a more 'repeat' basis.

Parts, general condition / circuit board condition; Most of our parts are from 'salvage / donor' units. While we don't sell parts that are 'known' to be bad, occasionally parts will need further adjustment, cleaning, 'tweaking', or in the case of circuit boards, may need old, conductive glue / epoxy further cleaned, and some 'common' parts / components replaced due to 'green / black / furry' legs, or because those parts were marked as 'sold separately'. Some circuit boards may have 'tired' "landing / solder pads" which can require 'jumpers'. Unless noted, circuit boards will be 'crack / split / break' free.

Parts pricing; Most of our parts price / value will be based on a few things. Firstly, we are in the restoration / refurb business, so we consider what we would be willing to pay for the part if we needed it (which again, is what the parts are listed for in the first place, "our units"). Secondly, the rarity / value of the unit the part(s) fit. The 'Tuning Knob' for a receiver that has a final value of $350 will likely be much less than the "Tuning Knob" for a unit with a final value of $1500 or more (a set of tires for a typical sedan will be $400 to $600. A set for a Lamborghini can be $16,000). Thirdly, the 'rarity' of the part. Forth, the 'condition' of the part. Fifth, the difficulty to extract the part, or success rate for extracting certain parts. Sixth; frankly it's a LOT of work and time to part out a unit. Most take 1 to 3 days of shop time to process. Not only the disassembly, but the 4-15 hours of pre-testing / servicing and just as time consuming can be the amount of time it takes to do all of the research we do and the info we list on many parts for cross-referrencing to other units that my use the same parts by scouring service manuals. On many circuit boards we will list every 'semi-conductor' which is also very time consuming. Lastly, every call or email for a part can require 20 minutes to sometimes over an hour of 'phone support', often (about 50% of the time) with me convincing the potential purchaser that they don't need the part I have to solve their problem.
Sorry to sound like a "whiner" about selling parts, but "time is money".

Shipping: Shipping on most 'small' parts if typically via Postal first class or Postal Priority for both domestic (USA) and international orders. Larger parts such as transformers and drivers (speakers) are typically via FedEx gnd.
Some parts sales such as those for empty 'speaker cabinets', empty 'component cabinets / covers / bonnets' and 'speaker grills' and most are 'doomed' from the start. Due to their size and required packing supplies, the cost of 'packing for safe transit' and shipping are commonly 'disproportionate' to their cost, typically nearly equal to and sometimes greater than the cost of the part. Think about it. An empty speaker cabinet or stereo receiver case is essentially the same size as a complete one. Yes the weight will be less, but most of items that size are calculated on 'dimensional weight', not actual weight so are commonly just as expensive as shipping a 'complete unit'. Secondly empty component cabinets have to be packed to disallow breakage, typically requiring nearly as much packing materials as an entire unit. Speaker grills have to be 'sandwiched' between foam sheets in large, custom ordered boxes (all relatively expensive). It is what it is....

A non-response to an email of phone call / voice message request for a part that we don't show on one or our pages, or is already marked "SOLD" will be typical. We simply don't have the time / man-power resources to respond to every query we get for items we don't show as avail. Most folks get that. Having said that, I / we may respond if we have information on a substitution or other useful information relating to it.

A non-response to an email of phone call / voice message request for a part (we may appear to have, but typically 'highlighted in Orange or Yellow'), likely means that we are still determining which parts we are going to need for the restoration or repair of one of our units. Again, the parts are first for the restoration of our units and secondarily for the public market. Since we list the parts available for ourselves, it is not much effort to modify the menu's for web publication, which in turn makes the reference information and occasionally the part available to the public. Frankly, publishing them to the web, in many instances, makes it easier for us to determine if we have the part for our needs as well. The alternative to all of the above would be to not offer them at all to the public, however most parts are available to the public for sale. Also, parts requests can occasionally take time for us to respond to. While we may have a part listed, and we like to keep the website 100% accurate, occasionally a part will be 'used by us' or 'previously sold' and we by oversight, and we did not get the web listing marked "SOLD", or the part gets 'mis-placed' or 'lost' (laid down somewhere in the warehouse(s) and then it get's lost track of (that happens to our coffee cups all the time, then we find it months later with 'a good batch of 'penicillin' growing in it), so we like to 'lay eyes on it' prior to responding. Sometimes we just can't figure out which cabinet or drawer parts were assigned to (and we're working on a system for that one).

Some folks email / call and want us to respond either way / whether we have the part or not. Again, we simply do not have the time resources to do that. Our time must be utilized on the requests we can fulfill.
Sorry for all the excuses, but that's how the 'system' (or lack thereof) works.
And, if you don't see it, we likely don't have it.
Thank you for your understanding.

$20. MINIMUM ORDER


20% off sale on salvage stereo parts.


See sales banners on parts pages for details

Most of these components are "take-outs" from stereo gear that for various reasons we 'chopped' and unless otherwise noted are in serviceable / working condition / shape!
In the case of output transistors, they will be tested / checked prior to posting and once again prior to shipment, pots / switches will be 'cursory' cleaned, parts already missing / utilized from circuit board will be noted, transformers will be checked prior to posting. Filter capacitors will be tested / checked prior to posting and once again prior to shipment and 're-conditioned' / 're-formed' if necessary.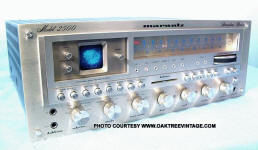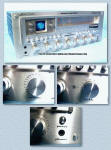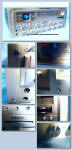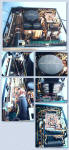 NEW LISTING 6/13/07


(Click on above thumbnails to enlarge photos)

MARANTZ 2500 STEREO RECEIVER




HUGE POWER WITH SCOPE


**** NOW

WITH ISSUE

****
(Text below from before issue)


SOLD


CONTINUE DOWN PAGE TO RED TEXT BEFORE DECIDING THIS IS THE ONE FOR YOU.
Receiver has had

recent

service

(approx 22 hours worth)

including all switches, contacts, and controls cleaned for static free performance, complete cleaning inside and out, all

dial

and meter

lamp

s

replaced

as well as the FM Stereo indicator and scope illumination lamp,

and all functions tested for perfect operation

(with the exception of the FM Muting issue listed below)

.

The only issue with this unit is that the balance control knob stem had been snapped off some time ago and it is a bit "worn" on the extreme ends (makes a bit of static that is beyond cleaning). Control still works and enough of it is protruding to operate it. Also, the FM Muting function is always engaged, meaning that the hiss between stations is never allowed. Shouldn't be an issue unless you are trying to tune a really weak station or need to utilize the unit as a pink noise generator for doing speaker testing. Entire "wind tunnel" design, output heat sink module cleaned internally (no easy task) as well as the cooling fan. Dust free internally for years more cool running and long life.

We also aligned the AM and FM front end sections of the tuners and checked the output bias.

All inputs tested and both side produces clean and even sine waves into static 8 & 4 ohm loads! No power supply hum of any kind. It's dead silent! Unit looks and sounds great.

Following restoration procedures, the unit was ran continuously at medium volume, as all our amplifier / receivers are, into a load with "Loudness" on and both Tone Controls at 10 for 48 hours.





While this unit was originally rated at

2

50 wpc, on

our test bench, both this unit's amplifiers produced

51

volts @ 8 Ω per channel for

325

watts / channel and

45

volts @ 4 Ω per channel for

506

watts / channel via discrete, TO-3, metal cased outputs.

(8x Marantz branded D555 and 8x Marantz branded B600 transistors. All original Marantz's and none have ever been changed or substituted)





____________________________





One of the most SERIOUS receivers ever created. There's maybe 5 receivers made in the class of this unit from Marantz, Sansui and Pioneer and this is one of them. The Marantz 2500. This is the only receiver that when testing for power output we had to get our readings within about 3 seconds as at 4 ohms, our bench power load started smoking! This is not for connecting to wimpy speakers or even mid powered speakers. I normally don't jump on the "wattage bandwagon" and worry about speaker / amplifier match ups or load issues, but you have to be very careful with this unit and your speakers. It produces a tremendous amount of current and the power can "get away" from you quickly. It will take out drivers if you don't pay attention to it! Contrary to most of the historic thinking out there among audio "wannabes", 90+% speakers (drivers) are blown because someone had too small of an amplifier that they were driving beyond what it was designed to do and sent a "clipped" signal to their speakers, thus taking out drivers. This unit is an exception to that rule, and it really will take out drivers due to too much "clean / non-clipped" signal going too them. I don't want to unnecessarily scare someone, but also want the potential owner of this unit to under stand that it is a "race car" grade of power. The thing has

16

, TO-3 outputs!!!

Most amps / receivers have 4! Great

looking

unit with the "Scope" CRT tuning / audio signal monitor. With the exception of the balance issue mention above, all original aluminum knobs intact with minimum of cosmetic wear. Brushed aluminum face intact as well with minimum of cosmetic wear. Only main cosmetic issue is some scuffing on the dial window plastic (see issue photos above)

.


Features include:





- Huge power output
- Dual Power supply featuring

huge toroidal

dual winding power transformer
- Marantz's CRT Scope Tuning / Audio Monitor
- Weighted

"Gryo"

flywheel analog tuning


- High quality, Calibrated, Step de-tented Volume control


- A,B A+B

&

Off speaker positions
- Separate Left and Right, Bass

, Mid

and Treble controls with concentric knobs and utilizing super quality, de-tented pots
- Tone In / Out (Defeat) selector for either routing signal thru the tone controls for modification or for Direct Coupling for purest audio signal path
- Built-in Hi

and Sub

filters for reducing 19kHz pilot tone in FM broadcasts, Tape Hiss and the Sub filter for reducing turntable rumble. Lo centered @ 15Hz and Hi centered @ 9kHz both at 18dB / Octave. Great filters!
- AUX input for (Video / CD / DVD / VCR / DAT / MP3 / XM / SIRUS etc.)
-

Dual

Tape monitor

s

featuring

Bi-Directional Dubbing


(

Tape Monitors can be used with

Video / CD / DVD / VCR / DAT / MP3 / XM / SIRUS etc.

and Dubbing can be used with CDR (CD recorders) units

)


- Dual

Phono

/ Turntable

inputs




- Loudness control


- FM Stereo / Mono selector


- FM "Quadradial" output RCA jack on rear panel




- Pre-Amp Stereo / Mono selector


- Stereo

, Stereo

Reverse switch for entire pre-amp

also allows selection for R+L (Mono) conversion and independent monitoring of L & R signals that can then be routed to both power amp outputs


- FM Muting

with rear mounted level adjustment (has above mentioned issue that it's always engaged)


- FM MPX filter built-in


- Built-In Ferrite AM Bar antenna on rear panel


- Front mounted 1/4" stereo headphone jack


- Optional Dolby Decoder port on rear panel (Decoder plug in module not included)




- Pre-Amp Out / Power-Amp Input loop




- Rear mounted, Power Protection Fuse


- Dual AC convenience outlets on rear panel with 1 switched and 1 un-switched

with a total capacity of 300 watts



SPECIFICATIONS / SPECS:
- Damping Factor; @20Hz >60!!!
- 0.08% THD at full rated power
- Freq Response Bandwidth of power amp section; 20-20,000Hz
- Rated Power 250 wpc @ 8 and 330 wpc @ 4 ohms

PRE-AMP SECTION;
- S/N ratio of phono input; 98 dB
- Freq Response; 10 Hz to 60 kHZ
- Output Levels for Tape; .775 mV
- Pre-Output max level; 4.2 V
- Pre-Out Impedance; 450Ω
- Tape Output Impedance; 500Ω
- Bass Control; centered @ 100Hz
- Treble Control; +- 11dB centered @ 10KHz
- Low Filter; Centered @ 15 cycles
- Hi-Filter; Centered @ 9 kHz

TUNER SPECS FOR FM;
- Sensitivity; IHF Usable - 8.75 dBf (1.5 μV)
- IHF 50 dB Quieting in Stereo Mode - 33.2 dBf (25 μV)
- 80 db S/N
- 85 dB Selectivity
- 1.0dB Capture Ratio @65 dBf (1000 μV)
- IF rejection; 120 dB
- FM separation @ 1kHz 50 dB

PHONO INPUT SECTION;
- Input overload at 200 mV
- Dynamic Range; 106 dB
- Input Sensitivity; 1.8 mV
- Input Impedance; 47 kΩ
- Input Capacitance; 100 pF
- S/N ratio of phono input; 80 dB
- Freq Response; 10 Hz to 60 kHZ



Again we have completely gone though this unit as stated above and it's ready to go.

Unit incorporates huge power supply for reserves to spare. Allows for lots of headroom, clean bass and Huge, pounding sound!!!!!!

Again, the Marantz 2500 is in the half-dozen largest receiver built for the mainstream audio market

!

Minor, normal scuffs to face edges.

Brushed aluminum face and aluminum milled knobs all intact and in like

great cosmetic

condition. Entire receiver looks, works and sounds great! Measures

19.25

" wide x

17.25

" deep x

7

"

high

and weighs a whopping

60

lbs unpacked.

Will include a copy of the owners / users manual.

Comes with our 90 day limited warranty.


MARANTZ 2500 Stereo Receiver

2600


Cond. 8

(due to balance control and FM muting issue)




$1899.00


SOLD

NEW INFO:
Unit has developed an issue. May be serious, may not by.
After it's restoration, we had done lot's of "burn-in". We used it on and off for a few weeks, as it was more practical to keep it near the "burn-in" rack than to move it to the warehouse for storage to await shipment. Our burn-in rack also serves a secondary purpose of providing sound for much of the warehouse during the day. What ever receiver / tuner-amp is being burned in is what we are listening too. I had moved the Marantz down to a piece of foam padding, and sat it on it's side, as there wasn't enough room in the rack for recently restored gear to be "burned-in". After about a week of burning in other gear, we cleared the burn-in rack and moved the 2500 back to the main burn-in shelf. After connecting the antenna, 8 ohm speakers and power, we powered it up. Upon doing this the only thing that happened is the cooling fan came on at high speed. No lights, no display, no relay click and no sound. No other sounds were associated with this, nor any visual indication of anything. Only the fan on at high speed. Having already invested 20+ hours into it, I was ready to move on to the next patient, but went ahead and gave it a quick re-bench. I thought maybe the problem could be the "over-temp" protectors on the heat sinks were giving a false alert. They seem to test similar in pairs (there's four of them). I checked all the internal fuses. At this point I don't wish to spend any more time on this unit as I've got many others that need attention.
As-Is
$950. *
SOLD


SORRY, WE DO NOT HAVE ANY PARTS FOR THIS UNIT OR THE MARANTZ 2600, NOR ANY RESOURCES FOR PARTS FOR THEM CURRENTLY


LINKS TO OUR 'HI-FI' DEPARTMENTS

Wondering where the "tone" you remember went?....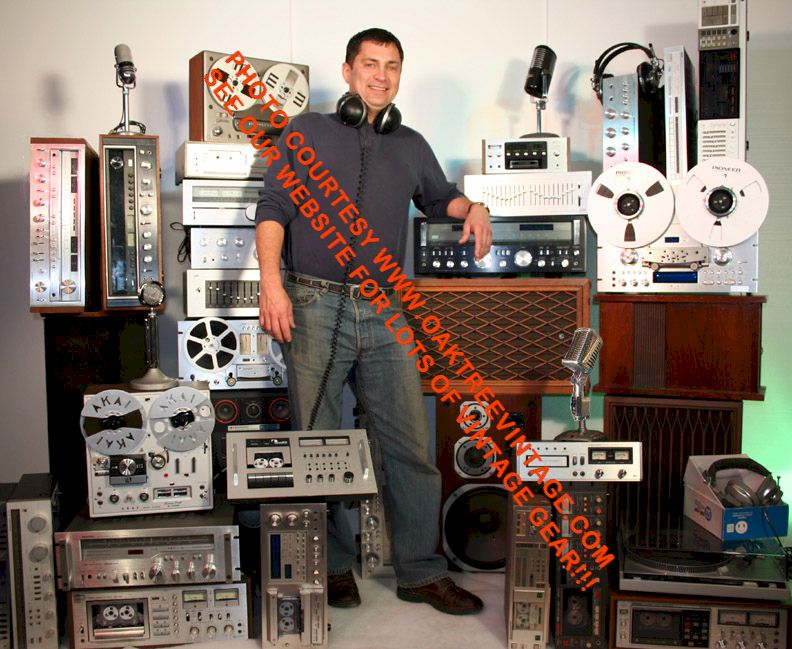 .... Surround yourself with Silver and find it again!

CONTACT INFO BELOW

$20. MINIMUM ORDER




(for 'PARTS';
as of 12/4/2020, for the next 60-90 days,
due to staffing / resource limitations, we are shifting focus away from most 'salvage / used / donor' parts requests at this time with *only a few exceptions, and will not be responding to calls or emails for those type of parts. We will still process orders for '**non-unique / SKU' parts / accessories that offer an 'on-line payment' option.)
*at our discretion, some requests my still get a response if time allows.
*"unique" would apply to most 'salvage' Hi-Fi / Stereo / Speaker, scooter, MI, Pro-audio parts. Parts that we normally stock and have a "Buy It" option are not included in the above notice.

Before calling, PLEASE read the text in below.
BEFORE CALLING
(800) 806-4231 EXT #1
~9:30 AM- ~7:30 PM most days COLORADO / ROCKY MOUNTAIN TIME ZONE

OR

BEFORE EMAILING parts@oaktreevintage.com

(for 'PARTS';
as of 12/4/2020, for the next 60-90 days,
due to staffing / resource limitations, we are shifting focus away from most 'salvage / used / donor' parts requests at this time with *only a few exceptions, and will not be responding to calls or emails for those type of parts. We will still process orders for '**non-unique / SKU' parts / accessories that offer an 'on-line payment' option.)
*at our discretion, some requests my still get a response if time allows.
*"unique" would apply to most 'salvage' Hi-Fi / Stereo / Speaker, scooter, MI, Pro-audio parts. Parts that we normally stock and have a "Buy It" option are not included in the above notice.

We DO NOT have your part unless the following conditions are met:

A) You HAVE SEARCHED our page(s) and HAVE FOUND the part you are looking for SPECIFICALLY listed on one of our pages or you have solid information that it's a 'bona fide' substitution for your part (unless noted already, we won't have any further info along those lines)
AND
B) The part that you have found is NOT marked as SOLD or SOLD OUT.


If you do NOT see it listed after thoroughly searching the pertinent page (likely the page you landed on originally),
we do not have it,
nor do we know when it might come in,
nor do we maintain "waiting lists" for parts,
nor do we know who might have it.

Sorry, but phone and email traffic for parts we don't have listed or for parts that are already marked "SOLD" has become too consuming of time resources.

We try to keep these pages 99+% updated.
If you don't see the part you are looking for, simply check the web page periodically as we never know what will show up each day. Thanks!!!!!

ALSO: When e-mailing be sure to include a relevant subject, ie: Brand / Model number / reason for inquiry in the 'SUBJECT LINE'.
SUBJECT lines left empty, or with 'single word' text like;
"Hello", "Hi", "parts", "stereo", "inquiry", "question", "selling" or similar or similar 'un-qualified' terms may automatically be deleted by Anti-Virus / Spam settings or receive 'Low Priority'.
(Subject lines left empty show up as "No Subject" and are deleted automatically by our anti-spam settings".
We do not return calls / emails for requests for parts we don't show / or have available (we may choose contact with further, useful information).

SPEAKER PARTS | STEREO / HI-FI ELECTRONIC PARTS | KEYBOARD PARTS
___________________________________________

Haven't received a response to your email? See FAQ'S

MAILING:
OAK TREE ENTERPRISES
PO. BOX 6182
COLORADO SPRINGS, CO 80934
U.S.A.

Before ordering by postal mail, please phone or email us about the item and the details of sending your funds. Thank-you.

SPEAKER PARTS | STEREO / HI-FI ELECTRONIC PARTS | SELLING-TRADING-CONSIGNING | KEYBOARD PARTS I FAQ'S
CONDITION RATINGS | ORDERING / POLICIES | WARRANTIES / RETURNS | SHIPPING
RESTORATION PROCEDURES | REPAIRS | CONTACT PARTS


As much of the price charged for parts is for the 'time to extract' from it's donor unit, unless we send the 'wrong part', parts are NOT returnable.
See our "Warranties / Returns" page via the link below for more details.

POLICIES, SPECIFICATIONS, AVAILABILITY, INFORMATION AND PRICING SUBJECT TO CHANGE AT ANYTIME AND WITHOUT PRIOR NOTICE
and changes may not be posted to web immediately. Information such as Parts Substitution possibilities, "Circa" dates, original values, etc. are to the best of our knowledge. If you are critically concerned, you should do independent research on your own prior to ordering or utilizing this information in any way. Manufacturers also are known to change part numbers, specs, circuit designs, specs etc within the same model.

Copyright © 1997-2021 Oak Tree Enterprises, LLC