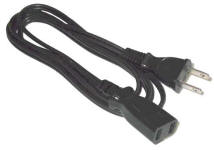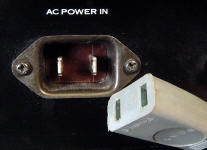 AS OF 1/7/15, NO MORE AVAILABLE. SORRY
(Click on above thumbnails to enlarge photos)
TEAC / TASCAM REPLACEMENT
AC POWER CORD / MAINS CABLE FOR REEL TO REEL DECKS
-
Replacement AC power cord for many older Teac-Tascam Reel to Reels, tape decks, and probably many others.


Here are just a few of the units this cable will fit. Teac-Tascam models for sure; 33-4, 505R, A-1500, A-1500W, A-1230, A-1250, A-1250S, A-2050, A-2300S, A-2300SD, A-2300SR, A-2300SX, A-2340, A-2340SX, A-2520, A-3300S, 3300SR, A3300SX, A-3300SX, A-3340, A-4000S, A-4010, A-4010S, A4010SU, AR-40S, AR-60, A-6010, A-6010S, R-1000, R-1100 and likely other TEAC reel to reel decks. This AC power cord / mains cable will not fit the Bolex-Paillard 18-5 8mm film projector even though it appears similar.

(Above text, in it's entirety, including 'fit list' property of www.oaktreevintage.com / Oak Tree Enterprises, LLC. See 'Copyright Information' page for details)

AS OF 1/7/15, NO MORE AVAILABLE. SORRY