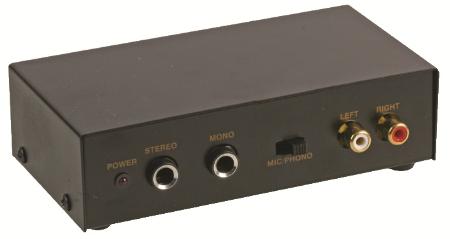 AC POWERED!
PHONO PREAMP / TURNTABLE / CARTRIDGE PRE-AMP
W/ MICROPHONE PREAMP BUILT IN
with FREE & CORRECT cables
PREAMP PREAMPLIFIER PRE-AMPLIFIER 555-17806
for sale
Allows a turntable to be connected to either a modern receiver / pre-amplifier that does not have a phono input (just connect to any Tape, CD, DAT, DVD, AUX or similar input using this phono pre-amp) or allows you to connect your turntable directly to your computer to "Burn" CD's (Computer with audio inputs and a CD burner for this operation). This is a Solid State unit and is AC powered. No batteries to worry about. We have been told by a few customers that have ordered these AC powered units, that they were replacing their DC (battery) powered units because they were tired of replacing their batteries every couple days. Nice quality unit featuring a full 30Hz-20,000kHz frequency response, 50K ohm input impedance, 0.5mV for 'Microphones' or 3mV input from a phone cart, produces 150mV output @ 10k Ohms, with a Signal to Noise ratio of 48 dB. Overall gain is 50dB. If you have tried to connect your turntable to your non-phono inputs such as Aux, or a Tape / Video input, and gotten very low, without turning your amp way up, or no volume, YOU NEED THIS! That's just how it works. It also has the proper internal RIAA filtering / EQ'ing to eliminate the "muffled" bass sound you get without one of these. Small package can mounted if preferred to your audio cabinet walls. Standard RCA inputs and outputs and ours ships with a pair of RCA cables and an RCA to Stereo Mini-Plug FREE to connect from the Pre-amp to either your receiver / amp or to your computer. Includes our standard 90 day limited warranty. For Magnetic cartridges. This unit will can also be used as a 'microphone' pre-amp for either a 'Stereo-TRS' or 'Mono-TS' microphone plugs via 1/4" jacks (RIAA EQ can be switched 'Off' for use with microphones.)
Phono Pre-Amp
NEW
$42.99
with your both 'Dual RCA' or 'Computer Sound Card to RCA' cables

SORRY, NOW DISCONTINUED. DO NOT ORDER

Domestic Customers Only


Phono Pre-Amp with RCA Cable
Your Price $42.99


Phono Pre-Amp with Computer Soundcard Cable
Your Price $42.99



SORRY, NOW DISCONTINUED. DO NOT ORDER

PLEASE CALL US AT:
(800) 806-4231
- Press Option '2' for 'SALES' to order -

~10:00 AM- ~5:30 PM most days COLORADO / ROCKY MOUNTAIN TIME ZONE



"

Just wanted to send a big THANKS. I recently purchased the AC POWERED! PHONO / TURNTABLE / CARTRIDGE PRE-AMP and wow it was everything I needed and more!! The service was excellent the mailing lightning fast. Thanks again," - Joseph

, Holmes PA.