Purveyors of Electronic, Musical and Vintage goods from then, now and in between.
Since 1982.

SORBOTHANE® ISOLATION FEET / PODS

Sorbothane® turntable

feet -

replacement / isolation feet for Pioneer PL-518

& PL-514

Turntables as well as other Pioneer PL Turntables, Dual Technics Marantz Scott Sony PS Sansui Kenwood Turntables CD & DVD player isolation feet. Sorbothane® Hemispheres also work for spring reverb isolation feet to reduce vibration & rumble. Isolation feet / pods made from Sorbothane.

Sorbathane

silicon



(click on above thumbnails to enlarge photos)

SORBOTHANE® ISOLATION HEMISPHERES / ISO PODS / FEET
TURNTABLE / CD / DVD PLAYER / TUBE GEAR / SUBWOOFER SPEAKER / SPRING REVERB,
SORBOTHANE® / SILICON ISOLATION FEET

Finally we found THE ANSWER to Turntable / CD / DVD player / Tube Gear / Subwoofer / Speaker / Analog Spring Reverb Isolation. These are especially great replacement feet for turntables that utilized natural rubber feet in their original feet. Replacement rubber feet for turntables such as the Pioneer PL-514, PL-518
, PL-540, PL-560

and the Technics SL-Q2, SL-Q3, SL-1950 etc. The original rubber has likely long since deteriorated rendering them useless.
We have looked for years and tried many hair-brained ideas, none of which either worked nor were practical,
Until Now!

These 30 'duro', Sorbothane® hemispheres are a great answer for most isolation situations, where you want to reduce or eliminate the noise / vibration caused by outside influences to your Turntable, CD / DVD player or Analog Spring Reverb or reduce the effects of extraneous vibration from your speakers / subwoofers coupling with your floor. Simply stick on the bottom of the unit you wish to isolate. They are VERY "tacky" so will stay in place long enough to position the unit. Once there they stay put not only from their self stick properties, but simply from the weight of the unit on top of them. Can be removed by peeling off slowly and then re-stuck to another surface.

They are sold in sets of four and as these are manufactured for us in batches, we generally only have a limited quantity at any one time.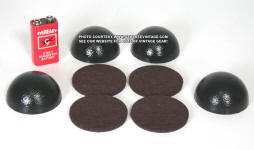 (click on above thumbnails to enlarge photos)

These are also great for supporting speakers to reduce vibration and turntable rumble and to reduce the level of sound transferred through the floor & walls of apartments for less annoyed neighbors. These would also have many other uses as isolation mounts / bumpers. Each hemisphere measures 2" in diameter and 1" in height. They also come with a set of adhesive, felt pads to reduce or eliminate any potential finish 'reaction' issues.

Set of 4 feet
$44.99

| | |
| --- | --- |
| Domestic US Customers | International Customers |
| | |

FINALLY BACK IN STOCK, AND NOW IN BLACK INSTEAD OF 'SMURF BLUE'!
(Hey, if you prefer 'blue', we might have 1 or 2 pair of those still available)


IF YOU PREFER TO PLACE YOUR ORDER BY PHONE,
PLEASE CALL US AT:
(800) 806-4231
(719) 362-5565
- Press Option '2' for 'SALES' to order -


LINKS TO OUR 'HI-FI' DEPARTMENTS

Wondering where the "tone" you remember went?....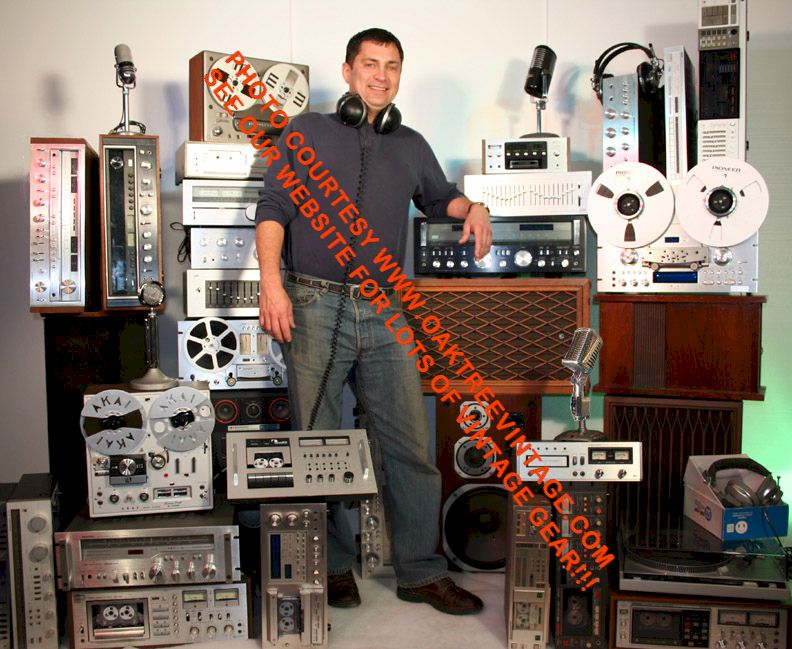 .... Surround yourself with Silver and find it again!

CONTACT INFO BELOW

$20. MINIMUM ORDER








IF YOU PREFER TO PLACE YOUR ORDER FOR THE ABOVE PARTS / ACCESSORIES BY PHONE,
PLEASE CALL US AT:
(800) 806-4231
(719) 362-5565
- Press Option '2' for 'SALES' to order -
NOT the 'Parts' option

OR EMAIL sales@oaktreevintage.com

~9:30 AM- ~7:30 PM most days COLORADO / ROCKY MOUNTAIN TIME ZONE

ALSO: When e-mailing be sure to include a relevant subject, ie: Brand / Model number / reason for inquiry in the 'SUBJECT LINE'.
SUBJECT lines left empty, or with 'single word' text like;
"Hello", "Hi", "parts", "stereo", "inquiry", "question", "selling" or similar or similar 'un-qualified' terms will automatically be deleted by Anti-Virus / Spam settings or receive 'Low Priority'.
(Subject lines left empty show up as "No Subject" and are deleted automatically by our anti-spam settings"

SPEAKER PARTS | STEREO / HI-FI ELECTRONIC PARTS | KEYBOARD PARTS
___________________________________________

Haven't received a response to your email? See FAQ'S

MAILING:
OAK TREE ENTERPRISES
PO. BOX 6182
COLORADO SPRINGS, CO 80934
U.S.A.

Before ordering by postal mail, please phone or email us about the item and the details of sending your funds. Thank-you.

SPEAKER PARTS | STEREO / HI-FI ELECTRONIC PARTS | SELLING-TRADING-CONSIGNING | KEYBOARD PARTS I FAQ'S
CONDITION RATINGS | ORDERING / POLICIES | WARRANTIES / RETURNS | SHIPPING
RESTORATION PROCEDURES | REPAIRS | CONTACT PARTS


30% restock fee / service charge applies to all 'parts' returns for refund.
Some parts are not returnable.
See our "Warranties / Returns" page via the link below for more details.

POLICIES, SPECIFICATIONS, AVAILABILITY, INFORMATION AND PRICING SUBJECT TO CHANGE AT ANYTIME AND WITHOUT PRIOR NOTICE
and changes may not be posted to web immediately. Information such as Parts Substitution possibilities, "Circa" dates, original values, etc. are to the best of our knowledge. If you are critically concerned, you should do independent research on your own prior to ordering or utilizing this information in any way. Manufacturers also are known to change part numbers, specs, circuit designs, specs etc within the same model.

Copyright © 1997-2016 Oak Tree Enterprises, LLC
Please be patient while page loads . . .