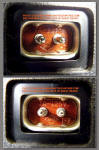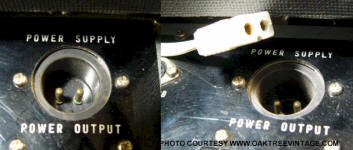 (Click on above thumbnails to enlarge photos)
8mm Film Projector replacement AC power Cord / Cable for Bell & Howell / B&H, CHINON, GAF, SANKYO, VERNON, VIVITAR & WARDS and likely other 8MM FILM PROJECTORS
for sale
Replacement AC power cord / cable / mains lead for some 8mm film / movie projectors such as the Bell & Howell / B&H 10MS, 11-XJ, 'Director Series Dual-8' and likely many other 8mm film projectors. Also 16mm B&H Filmosound models; 302?. Also fits Fujicascope 8mm film projectors M2, M3, M35, M40, SM1 8mm film projectors and probably many others.They will fit units that have 8mm center to center spacing on 2 recessed, round prongs / pins.

They will fit the units that have 8mm center to center spacing on 2 recessed, ROUND pins / prongs. NOT rectangular pins / prongs spades.
PLEASE STUDY THE ABOVE PHOTOS TO COMPARE TO YOUR UNIT PRIOR TO ORDERING. THE SHAPE, SPACING & DIAMETER OF THE PINS ARE PERTINENT.


$28.99

Choose "Buy Now" below
to order on-line
| | |
| --- | --- |
| Domestic US Customers | International Customers |
| | |

likely used, but good condition.
VERY limited availability.

IF YOU PREFER TO PLACE YOUR ORDER BY PHONE,
PLEASE CALL US AT:
(800) 806-4231
(719) 362-5565
- Press Option '2' for 'SALES' to order -
We do not have nor, sell, nor can get replacement projector belts, bulbs or lamps.
If your film projector 'jack' looks like the 'recessed' version in any of the following photos, then this is the cable you need!





(Click on above thumbnails to enlarge photos)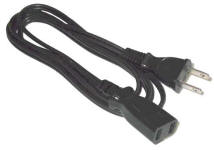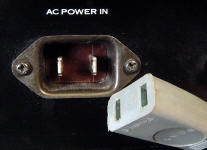 AS OF 1/7/15, NO MORE AVAILABLE. SORRY
(Click on above thumbnails to enlarge photos)

B&H 8mm PROJECTOR REPLACEMENT AC POWER CORD / BELL & HOWELL AC CABLE / MAINS LEAD FOR VINTAGE B&H 8mm FILM PROJECTORS
Replacement AC power cord for many older / vintage / antique B&H 8mm film / movie projectors. This replacement Bell & Howell AC cable / mains leads will fit many vintage B&H 8mm film projectors including the following models by Bell and Howell; B&H 'Picture Master' "400" 8 mm, 'Filmo-Master', Regent Design 112, 122, 122-A, 122-L, 122-LC, 122-LR, 151-A, Model G, Model 5, Model 8, 16mm B&H "Filmosound" / "FILMO-MASTER" models; "Diplomat" 57, 57-JJ, 57-R, 57-ST, 80, 129C / G, Filmo Auditorium Projector Model 130 B, 138, 139, "Diplomat" 'DESIGN' 173, 179, 179G, 185, 202, 273-A, 285, 302, 385 "SPECIALIST" 399, and probably many others. These will fit the units that have 2 recessed, 'flat prongs / spades.
It possibly may require a slight modification to fit inside the recess, by simply 'shaving' or sanding off the corners a bit more.
Here are just a few of the units this cable will fit. Replacement AC power cord for many older / vintage / antique B&H 8mm film / movie projectors. This replacement Bell & Howell AC cable / mains leads will fit many vintage B&H 8mm film projectors including the following models by Bell and Howell; B&H 'Picture Master' "400" 8 mm, 'Filmo-Master', Regent Design 112, 122, 122-A, 122-L, 122-LC, 122-LR, 151-A, Model G, Model 5, Model 8 and probably many others.


(Above text, in it's entirety, including 'fit list' property of www.oaktreevintage.com / Oak Tree Enterprises, LLC. See 'Copyright Information' page for details)

AS OF 1/7/15, NO MORE AVAILABLE. SORRY

________________________________________________________________________________________________________________________________________________