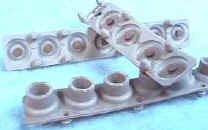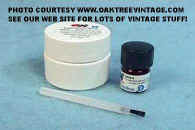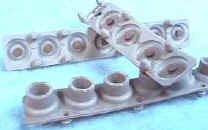 KEY CONTACT REPAIR KIT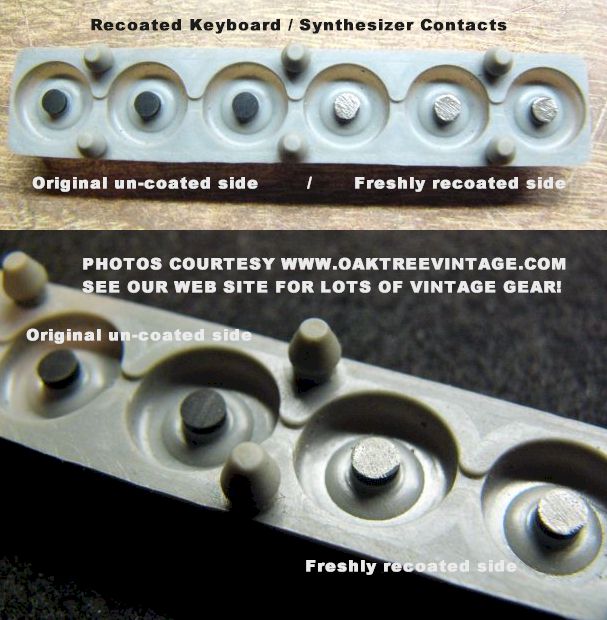 This is a repair kit to repair those worn out, mis-firing Korg Poly, Alesis, Yamaha, Roland and any other brand of drum machine or keyboard rubber key contacts. The contact strips themselves are no longer available in most cases, but if the rubber matrix is still intact you can easily do a quality repair on them and get back to making music!
Each kit is designed / rated to do over 50 contacts (I recently mixed up a batch and did over 200 contacts, and hardly put a "dent" in the amount in the container. Probably could have done many more. Once mixed, compound must be used with-in 72 hours). Great for musicians and repair shops needing to resurrect those old keyboards. Use if keys / buttons / switches are making intermittent sound / contact or no sound at all. We have tested this stuff in our own repair shop and it works great. Much to our surprise it also works on keys that transmit velocity or touch sensitivity too. Manufacturer has tested repaired contacts to over 500,000 keystrokes and they passed. If you've tried cleaning yours, they work for a while but they just keep getting worse, here's your fix. We were amazed at how well this stuff works. We repair all our key contacts using this stuff. Comes with instructions and everything you need. Very un-impressive looking package, with what appears to be little actual contents in containers, but will make up for it in performance!

Key contact repair kit
$48.99 each plus shipping

Choose "Buy Now" below
to order on-line


| | |
| --- | --- |
| Domestic US Customers | International Customers |
| | |
(Korg Poly-61 contacts shown in photos not included)


________________________________________________________________________
"To whom it may concern; I just wanted to send a quick note of thanks and gratitude. I received my contact repair kit in a timely manner. From start to finish it only took a couple of hours to complete the job on my Roland RS-9. I have had this keyboard since I bought it new in 2001. It has been a reliable, versatile instrument. Now, my kids and I have a band and my son is playing the Roland. We eventually lost an entire octave and I was quoted a repair price in the hundreds of dollars. The Roland now plays as good as new, maybe even better! Thank you!", Scott Dawson


"Just emailing to let you know I received the repair kit for my synthesizer and already fixed it. It went from sounding terrible to sounding like I just bought it new Incredible. Thanks for the fast delivery, I was under the impression it would take a bit. Satisfied customer", Kyle I., Chicago IL

"
Hello Colorado! Just wanted to thank you for helping to get my Korg mono/poly up and running. Almost every key contact was completely non-functioning (before repair), but all are now working perfectly! (after using your key contact repair kit). Thanks again, - James M., Jasper, Alabama

This gentleman was initially VERY apprehensive about this repair kit, and ordering one; "Thanks Jerry, I have completed the repair on my KR-55 Roland keyboard. All keys are working now. It appears the kit worked! I did let dry 24 hours, per your instructions. Thanks again for your help. Denny D."
________________________________________________________________________
WARNING: Electronic equipment carries dangerous and potentially lethal electrical currents. You should never open any electronic unit without proper knowledge of electronics and the hazards of electricity!
Any repair / restoration should be undertaken ONLY by a QUALIFIED ELECTRONICS TECHNICIAN! Oak Tree Enterprises, LLC is not responsible for damage due to misapplied, misused product, and our warranty extends only to the extent of replacement of defective product kits.

Repair kit to fix those worn out, mis-firing keyboard keys or what seem like 'broken'
contacts / rubber pads on Casio CT, CTK, CZ, MT, SA, SK, WK, Korg Mono Poly, Poly-Six / 6,
ROLAND KEY CONTACT REPAIR KIT
,Yamaha AN1X, CLV Clavinova, DGX, EX7, KX, RX, PSR, PSS, SY, Yamaha YPG, YPP, YPR, YPT, Alesis HR-16 16B B SR-16 MMT-8 MMT8 Drum machines, ARP Kurzweil keyboards as well as many, many others. Sorry, we do not have replacement contact strips generally. We sometimes have other parts for keybaords. Click here for the link...