Purveyors of Electronic, Musical and Vintage goods from then, now and in between.
Since 1982.

PLUGS TO CONNECT SPEAKERS
TO BARNEY OLIVER AMPLIFIERS

Barney Oliver amplifier / speaker connectors / plugs / Jacks.

Here they are!!!................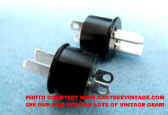 The very hard to find Barney Oliver speaker adaptor / connector plugs. If you have an old Barney Oliver
Integrated Amplifier that uses these, and have lost yours or need an additional set - here you go!
Sold in pairs.
$31.50 pair.
Price includes shipping anywhere in the lower 48 states!

(these do not thread on, but are friction fit and made
to have speaker wires soldered on)



20-25% restock fee / service charge applies to all returns for refund depending on item / distributor / drop shipper policies.
See our "Warranties / Returns" page via the link below for more details.

$20. Minimum Orders







*HOME PAGE* | CONTACT & ORDERING | PARTS CONTACT | FAQ'S I SELLING-TRADING-CONSIGNING | CONDITION RATINGS | ORDERING / POLICIES | WARRANTIES / RETURNS | SHIPPING | HOLD / SOLD | RESTORATION PROCEDURES I LINKS | CLIENT LIST | SPEAKER PARTS | STEREO / HI-FI ELECTRONIC PARTS | KEYBOARD PARTS


POLICIES, SPECIFICATIONS, AVAILABILITY, INFORMATION AND PRICING SUBJECT TO CHANGE AT ANYTIME AND WITHOUT PRIOR NOTICE
and changes may not be posted to web immediately.
Information such as Parts Substitution possibilities, "Circa" dates, original values, etc. are to the best of our knowledge. If you are critically concerned,
you should do independent research on your own prior to ordering or utilizing this information in any way. Manufacturers also are known to change
part numbers, specs, circuit designs, specs etc within the same model.
Copyright © 1997-2021 Oak Tree Enterprises, LLC