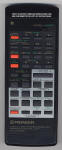 (click on above thumbnails to enlarge photos)


warranty
PIONEER CU-VSX046 A/V SYSTEM REMOTE CONTROL
USED
for sale
PIONEER CU-VSX046 / CUVSX046
/ AXD1263 Multi-Function Audio / Video / Stereo System
Remote Control.
This Pioneer CU-VSX046 controls Pioneer AV / Stereo Receivers, TV's, VCR / VTR's, LD (Laser Disc) Players, Receivers, Tuners, Tape Decks, and CD's. Controls most functions, such as Play, Fast Wind, Record, EQ, Tuner Presets, TV, Turntable, Tape Deck and CD Functions, Dolby settings / parameters, Menu Curser changes and more.
Originally supplied with or works with Pioneer models: CUVSX046, VSX501/KU, VSX501/SD, VSX502, VSX502/KU, VSX502/SD, VSX552/HL, VSXD5035, VSX-501, VSX-502, PMT-8072, CUV-SX046, VSX-501/KU, VSX-501/SD, VSX-502, VSX-502/KU, VSX-502/SD, VSX-552/HL, VSX-D5035, VSX501, VSX502, PMT8072

Original OEM / Factory remote, NOT an aftermarket universal!

Requires 2 AAA Batteries (batteries not included).
1 ONLY
Cond. 8.5
$48.99
SOLD 11/30/10


Click here to return to our main "Remote Controls" page...