Purveyors of Electronic, Musical and Vintage goods from then, now and in between.
Since 1982.

ONKYO RC-206S REMOTE CONTROL
Tested with a 90-Day Warranty

Onkyo RC-206S / RC206S CD Player, Tape Recorder, Stereo / Audio System Remote Control for sale. Tested with a 90-Day Warranty!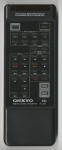 (click on above thumbnails to enlarge photos)


warranty

Onkyo RC-206S Multi-Function Remote Control

USED


for sale
Onkyo RC-206S / RC206S Multi-Function Remote Control Transmitter for Onkyo Stereo / Audio System Requires 2 AA Batteries (batteries not included). 1 ONLY
Cond. 9.5
$38.99
SOLD 6/28/11

Click here to return to our main "Remote Controls" page...

25% restock fee / service charge applies to all 'remote control' returns for refund.
See our "Warranties / Returns" page via the link below for more details.

If you do not see your remote control, we do not have it.
Please do not contact us to find out about a substitution,
or to inquire if we have something that is not on the page,
or if we know when we will get one in, or to 'how to program'
your remote, or 'how to program a universal remote'
or to be placed on a list to be notified when we get one.
We don't know, and won't know.
We only have what is shown on the page.
Also, unless your unit is specifically listed,
we do not have any further compatibility information.
You will need to do independent investigation
to determine if the remote will work with your unit.






POLICIES, SPECIFICATIONS, AVAILABILITY, INFORMATION AND PRICING SUBJECT TO CHANGE AT ANYTIME AND WITHOUT PRIOR NOTICE
and changes may not be posted to web immediately.
Copyright © 1997-2021 Oak Tree Enterprises, LLC
Please be patient while page loads . . .