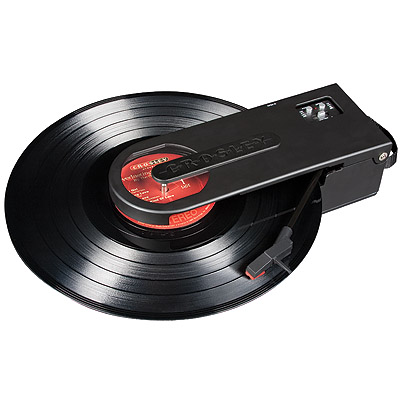 Click on thumbnails to enlarge photos)


1 Year Limited Warranty

CROSLEY
CR6002A "REVOLUTION"
PORTABLE USB TURNTABLE - W/ FM Transmitter
NOW DISCONTINUED.
DO NOT ORDER AS THERE ARE NO MORE.

When you take the record player "out of the box", you'll see why the Crosley's Revolution™ turntable truly fits it's name. Where other turntables take up space, this one dances around a desk without ado. Where other record players must be kept in their designated place, the Crosley Revolution™ practically begs to join you on every journey. Where other turntables tangle you in a web of wires, the Crosley Revolution™ effortlessly pairs with any FM radio for cordless, clear sound. It is a turntable of firsts -the first battery-powered Crosley turntable, the first with a platter smaller than a teacup saucer, and the first with a wireless transmitter for cord-free enjoyment. Users can tote this two-speed turntable with them to vinyl swaps or to a friend's house. Featuring a USB hookup for easy analog-to-digital transfer, the Crosley Revolution™ will allow users to free their favorites from the grooves for digital enjoyment across a variety of devices. This small but mighty turntable also features a headphone jack, passive audio out, and a dynamic*, full range speaker. **PATENT PENDING**
Ok, this turntable is not for everyone, but it will definitely fit some 'unique bills'. It's weird and wacky, 'Space-Age' looks will astound you. It's truly 'Portable' and as it's capable of battery power, can stand alone anywhere.
It is designed to be a novel way to get your vinyl sound onto your stereo system via it's 'line-out' jack or FM transmitter, your portable radio in the kitchen via the FM transmitter, or other similar use. One great use that a few customers have made us aware of is for showing their vintage 1950's, 60's and 70's American Iron, cars at car shows. You just display it on the hood of your '57 Chevy, '66 Malibu, '71 442 Cutlass or other great car, tune the FM radio (unless you only have an AM, in which case you're 'hosed') put on an album or 45 and you're cars' stereo is 'rock'in the show'.
The Crosley 'Revolution' turntable is USB enabled for connection to PC and Mac and includes a software suite for ripping and editing audio content. Transferring / recording your LP's and Cassette Tapes to CD is as easy as using the included 'Audacity' software.

Ok, I have to vent here...While this Crosley does have a built in speaker, let's put this in perspective. I read reviews out there about how the sound is 'lacking from it's internal speaker' or 'it sounds thin' or 'not audiophile quality'. DUH!!! Are people now that out of touch that they are unaware of what a small, 3-4" single speaker, in a small plastic housing would sound like. Yes, I think they must be. The internal speaker is primarily for monitoring / checking what is on a record, and not for 'audiophile' listening. Anyone who considers themselves some degree of a defined 'Audiophile' would not be considering a portable unit such as this as anything resembling 'audiophile-use' in the first place. Think about it! It is what it is, a uniquely designed, portable turntable and a great conversation piece while playing (preferably through your stereo system either via FM or Line-Out/In).
It's reminiscent of the 1980's, Sony SP-F5, that looked very similar (except it was not capable of USB output and did not have a built in speaker, the latter of which was probably a good thing). Another 'complaint' I read about was it's limited FM broadcast capabilities of only 10-20 feet. That's an FCC regulation issue and not Crosley. Some individuals are certainly quick to complain aren't they. Ok, I'll get off my soapbox.

FEATURES:
USB Enabled - for Connection to Windows Equipped PC and MAC

'Audacity' Software Suite for Ripping and Editing Audio Content (included)

'Fully Manual', Belt Driven Turntable Plays 2 Speeds - 33 1/3 & 45 RPM Records

Replaceable Record Player Needle / Stylus

FM Stereo / Radio TRANSMITTER for transmitting it's stereo signal to a nearby FM radio / stereo tuner

'Line-Output' via 3.5mm, TRS jack (standard 'portable' style headphone jack)
(allows connection to other sound systems, your computer sound card analog input, or any 'line level' audio input such as a larger stereo system, and amp / speakers, a PA system, Paging System, your TV with 'Line Inputs', your 'in-wall / in-ceiling' speaker system, etc.)

Single 1.75", Dynamic, Full Range Speaker (again, this speaker is primarily for 'monitoring' your recordings / file transfers from the turntable or the most 'pedestrian' of listening)
*(Just a side note: 'Dynamic' refers to the technical design of the speakers 'motor' or magnet structure. I think many folks erroneously think that the term 'dynamic' infers superior sound quality, when it is simply a 'technical' term describing a 'fixed / Permanent magnet' with a moving coil of wire around it)

AC or DC powered (For AC power simply utilize the INCLUDED AC power adaptor. For portable / DC use install 6x AA batteries (not included)).

UL listed and will ship as 'A' stock!*
This a unique unit, who's 'looks' are to be appreciated as it's primary 'draw'. I'm assuming if you weren't intrigued by it's looks, you would be considering the purchase of a normal turntable.?. Right? If you are considering this turntable for what it IS, then you'll likely LOVE IT!
Now comes with a 1 YEAR limited warranty up from Crosley's previous, 90 Day limited warranty.
Dimensions: 11" x 3.25" x 4.25" & ~4lbs unpacked.

Our Catalog number: CR6002AOT
LIST $150.00
Your Price $139.99 'A' stock*

* What is 'A' stock?
NOW DISCONTINUED.
DO NOT ORDER AS THERE ARE NO MORE.