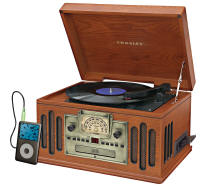 Paprika

Click on thumbnails to enlarge photos)


1 Year Limited Warranty

CROSLEY
CR704 'MUSICIAN' TURNTABLE / ENTERTAINMENT CENTER
3-SPEED TURNTABLE / CD / AM/FM / CASSETTE PLAYER
NOW DISCONTINUED.
DO NOT ORDER AS THERE ARE NO MORE.

The Crosley 'Musician'; Vintage-inspired both in substance and style, the Musician is crafted from traditional Crosley standards developed not so long ago. All can appreciate the combination of sophisticated stylings married with modern day conveniences including analog AM/FM radio, programmable CD player, 'basic function' cassette deck and a 3-speed turntable. Let this classic take you back in time. Crafted of MDF veneered with 'Real' wood, and smoothly finished in Paprika - one of Crosley's 'signature' shades. If that is not enough, check out 'portable' tunes with our portable audio ready feature. Just connect any portable audio device, MP3 player, or other 'iGadget®' with included hardware and 'have the music your way'.
This is essentially the equivalent of the 'Compact Stereo System's' available throughout the '70's and into the '80's that we all had at one time or another, except it now plays CD's!
Enjoy the music!

FEATURES:
Front-Loading 'Single Well', 20Song, Programmable CD Player
(This new version also plays most CD-R's (user created / "home made" CD's. Some CR-RW's can be finicky to play))
'Fully-Manual'', 'Single-Play', Belt Driven Turntable for quiet operation, Plays 3 Speeds - 33 1/3, 45 & 78** RPM Records (**78 RPM Records require optional Crosley NP78 RPM stylus / needle, available separately)
Plays 7", 10" & 12" Records
Replaceable 'Diamond' Record Player Needle / Stylus, Crosley model NP-1
Portable Audio / 'iGadget' Ready / 'Line-Input' via 3.5mm TRS jack
(Simply plug in your Portable Audio Device, MP3 Player, iPod®, iPhone®, eReader' or other 'iGadget®' and 'iStuff' *(not an 'iGadget®' dock, but simply accepts the 'analog' signal from any audio device capable via an 'analog signal' output via optional cable, ie' 3.5mm TRS-RCA male. Also great for connecting your existing component style, 8-Track Tape Deck, Reel to Reel Deck, Hi-Fi VCR or other audio units. Just give us a call if you're not sure how this can 'be used))
'True-Analog' AM/FM Radio Tuner
*(Authors note; Analog tuners allow 'tuning by feel'. Something you don't get with 'digital' tuners. Also our personal experience with the 'analog' tuners in the Crosley models with 'analog' tuners, is that they tune in AM stations exceptionally well. That seems to typically be a 'lost art' and is getting more and more difficult to find tuners / or radios that tune AM well. Great for listening to Sports, Talk Radio or those distant, or those occasional stations from 2 states away on clear nights.)
LED CD 'Track' info display
Dual 3x5", 8-Ohm, Dynamic, Full Range Stereo Speakers
'Real Wood Veneer' Finished in Paprika
UL listed and will ship as 'A' stock!*
This a great unit that does all of the above, has the 'Antique / Vintage' look and is a great unit if you don't require the more sophisticated operations of some of the other models. If you want the ability to simply 'Listen' to your old records, play cassette tapes, listen to CD's, and tune in AM/FM radio stations, then this may likely be your ticket. Again, also has the ability to allow connection of your other portable audio devices, such as MP3 players, iGadgets, etc. Now comes with a 1 YEAR limited warranty up from their previous, 90 Day limited warranty.
Dimensions: ~17"w x 10"h x 12"d & ~18lbs unpacked.

Our Catalog number: CR704OT
LIST $170.00
Your Price $149.99 'A' stock*

* What is 'A' stock?
NOW DISCONTINUED.
DO NOT ORDER AS THERE ARE NO MORE.