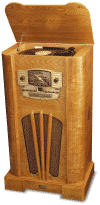 Oak

Click on thumbnails to enlarge photos)


1 Year Limited Warranty

CROSLEY
FLOOR STANDING, CONSOLE AM / FM RADIO
CR44CD "STEREO"
CD PLAYER & 3-SPEED RECORD PLAYER
and NOW PLAYS 78's**!
NOW DISCONTINUED.
DO NOT ORDER AS THERE ARE NO MORE.
An impressive focal point for your home or office. this full-size console is inspired by one of the final "giants" manufactured in the 1930's" The Art Deco design is re-created in solid wood and veneer with an illuminated Electronically Assisted Airplane Dial Tuner. This renowned design is true to tradition with an AM/FM radio and a three speed turntable discreetly hidden under the hinge top lid, yet adds a dose of modern technology with a programmable CD player.

This Crosley also allows you to simply spin records, play cassettes and CDs, or tune in to your favorite station on the Analog AM/FM tuner for hours of nostalgic enjoyment. The radio features an 'old school', analog AM/FM tuner that you can still tune by 'feel', unlike more modern 'digital' tuners. By the way, the quality of the tuners ability to pull in distant stations, especially on AM is exceptional. We here at 'Oak Tree' have an 'all metal constructed' warehouse in Colorado Springs, and there's a sports / talk station out of Denver that only the best tuners can receive. The Crosley 'Analog' tuners typically pick it up loud and clear without even moving the antenna! Great for listening to those night-time ball games. The FM, of course, worked fine as well.
If you've always wanted one of those cool late 30's thru 1940's style 'Floor Radios', but wished for 'Stereo' and a CD player, then here you go!

FEATURES:
Front-Loading 'Single Well', 20 Song, Programmable CD Player
(This new version also plays most CD-R's (user created / "home made" CD's (Due to variations in CD's and recording programs, some 'home' recorded audio CD's and some CD-RW's may be finicky to play. This unit will NOT play MP3 CD's))

CD 'Repeat' Play Function

CD 'Random' Play Function

'Semi-Automatic / Auto-return', 'Single-Play', Belt Driven Turntable Plays 3 Speeds - 33 1/3, 45 & 78** RPM Records (**78 RPM Records require optional Crosley NP78 RPM stylus / needle, available separately)

Replaceable Record Player Needle / Stylus, Crosley NP1

AM/FM Stereo / Radio

True Analog Radio Tuner
*(Authors note; Analog tuners allow 'tuning by feel'. Something you don't get with 'digital' tuners. Also our personal experience with the 'analog' tuners in the Crosley models with 'analog' tuners, is that they tune in AM stations exceptionally well. That seems to typically be a 'lost art' and is getting more and more difficult to find tuners / or radios that tune AM well. Great for listening to Sports, Talk Radio or those distant, or those occasional stations from 2 states away on clear nights.)

'Line-Output' via standard RCA jacks
(allows connection to other sound systems, your computer sound card analog input, or any 'line level' audio input such as your existing, larger stereo system, and amp / speakers, a PA system, Paging System, your TV with 'Line Inputs', your 'in-wall / in-ceiling' speaker system, etc.)

'Speaker Output' via standard component 'bare wire' speaker clips
(allows connection of higher quality 'component grade' speakers with a rating down to 4 ohms. Selecting 'External' speakers supersedes internal speakers)

LED Screen / Readout for System Status

4.5" Dynamic, Full Range Stereo Speakers

UL listed and will ship as 'A' stock!*
Full back covering. This radio has great sound from it's dynamic Stereo Speakers & due to a very large internal speaker cabinet. Finished in Medium Oak wood veneer. Now comes with a 1 YEAR limited warranty up from their previous, 90 Day limited warranty.
Dimensions 20 1/2"w x 36 1/4"h x 13"d 45 lbs un-packed (58 lbs packed & ships "UPS Oversize-II" @ their 70 lb rate).

Our Catalog number: CR44CDOT
LIST $400.00
Your Price $329.99 for 'A' stock*

* What is 'A' stock?
NOW DISCONTINUED.
DO NOT ORDER AS THERE ARE NO MORE.