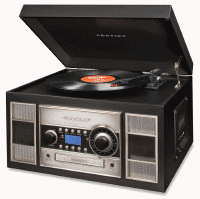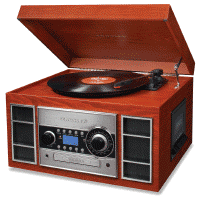 Click on thumbnails to enlarge photos)


1 Year Limited Warranty

CROSLEY
CR2413A MEMORY MASTER II - W/ USB
ENTERTAINMENT CENTER / STEREO SYSTEM
NOW DISCONTINUED.
DO NOT ORDER AS THERE ARE NO MORE.

Finally, a way to record vinyl and cassette to CD without tangled wires, confusing hookups or extensive computer expertise. With Crosley's Memory Master II - the sleek, redesigned version of the popular Memory Master CD recorder -- simply put on your LP or pop in a cassette, load a blank CD and press 'record' ." – Voila! Your valuable record or old tape is on a CD, ready to take on the road. With its handsome cabinet, this system harkens back to the golden days while still nodding to technology of the 21st century. Users will appreciate its three speeds (33-1/3, 45 and 78** rpm) so they can play and record their entire collection. Transferring / recording your LP's and Cassette Tapes to CD has never been easier! The Memory Master II is USB enabled for connection to PC and Mac and includes a software suite for ripping and editing audio content. This Crosley also allows you to simply spin records, play cassettes and CDs, or tune in to your favorite station on the Analog AM/FM tuner for hours of nostalgic enjoyment. The radio features an 'old school', analog AM/FM tuner that you can still tune by 'feel', unlike more modern 'digital' tuners. By the way, the quality of the tuners ability to pull in distant stations, especially on AM is exceptional. We here at 'Oak Tree' have an 'all metal constructed' warehouse in Colorado Springs, and there's a sports / talk station out of Denver that only the best tuners can receive. The Crosley 'Analog' tuners typically pick it up loud and clear without even moving the antenna! Great for listening to those night-time ball games. The FM, of course, worked fine as well.
This is essentially the equivalent of the 'Compact Stereo System's' available throughout the '70's and into the '80's that we all had at one time or another, except it now plays and records CD's!

FEATURES:
CD Recorder- Transfer Albums and Cassettes to CD

USB Enabled - for Connection to Windows Equipped PC and MAC

'Audacity' Software Suite for Ripping and Editing Audio Content (included)

Front-Loading 'Single Well', 99 Song, Programmable CD Player
(This new version also plays most CD-R's (user created / "home made" CD's (Due to variations in CD's and recording programs, some recorded audio CD's or MP3 CD's may not play in this unit and some CD-RW's may be finicky to play.))

'MP3' CD Play function (This new version now plays MP3 files from CD's approaching up to about 100 files)

CD 'Repeat' Play Function

CD 'Random' Play Function

CD recorder can be used Erase 'CD-RW' CD's for 'Re-Recording' over them (just like tape!)

'Semi-Automatic / Auto-return', 'Single-Play', Belt Driven Turntable Plays 3 Speeds - 33 1/3, 45 & 78** RPM Records (**78 RPM Records require optional Crosley NP4-78 RPM stylus / needle, available separately)

Replaceable Record Player Needle / Stylus, Crosley NP4

Cassette Tape Player w/ Full Transport Function (FF, REW, Play, Auto Stop)

AM/FM Stereo / Radio

True Analog Radio Tuner
*(Authors note; Analog tuners allow 'tuning by feel'. Something you don't get with 'digital' tuners. Also our personal experience with the 'analog' tuners in the Crosley models with 'analog' tuners, is that they tune in AM stations exceptionally well. That seems to typically be a 'lost art' and is getting more and more difficult to find tuners / or radios that tune AM well. Great for listening to Sports, Talk Radio or those distant, or those occasional stations from 2 states away on clear nights.)

'Line-Input' / Portable Audio / 'iGadget' Ready via rear located Standard RCA connectors
(Simply plug in your Portable Audio Device, MP3 Player, iPod®, iPhone®, 'eReader' or other 'iGadget®' *((not an 'iGadget' dock, but simply accepts the 'analog' signal from any audio device capable via an 'analog signal' output. Comes with necessary cable, ie' 3.5mm TRS-RCA male. Also great for connecting your existing component style, 8-Track Tape Deck, Reel to Reel Deck, Hi-Fi VCR or other audio units. Just give us a call if you're not sure how this can 'be used))

'Line-Output' via standard RCA jacks
(allows connection to other sound systems, your computer sound card analog input, or any 'line level' audio input such as a larger stereo system, and amp / speakers, a PA system, Paging System, your TV with 'Line Inputs', your 'in-wall / in-ceiling' speaker system, etc.)

LCD Screen / Readout for System Status

Dynamic, Full Range Stereo Speakers

Full Function, wireless Remote Control

UL listed and will ship as 'A' stock!*
This a great unit that does all of the above, when you don't wish to have quite the 'Antique / Vintage' look of some of the others. Somewhat more 'modern' look with a splash of 'Antique'. Brushed 'Pewter' bezel and speaker trim. This classic replica is re-created in wood, in either 'Black Satin' or Paprika finish veneer. Now comes with a 1 YEAR limited warranty up from their previous, 90 Day limited warranty.
Dimensions: 17.5"w x 10"h x 13.5"d & ~24lbs unpacked.

Our Catalog number: CR2413AOT
LIST $400.00
Your Price $369.99 for 'A' stock*

* What is 'A' stock?
NOW DISCONTINUED.
DO NOT ORDER AS THERE ARE NO MORE.