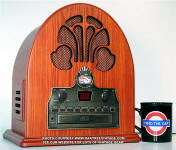 Click on thumbnails to enlarge photos)


1 Year Limited Warranty

CROSLEY
CR32CD
CATHEDRAL AM / FM RADIO
CD PLAYER
Antique style Radio for sale
The 'Cathedral' radio introduced in 1932 is one of the most recognized designs of all antique radios.
This classic replica is re-created, with a Paprika finish, 'real' wood veneer with an illuminated dial scale, authentic woven grill cloth, and full range 'stereo' speakers located on the sides. Now with a programmable CD player. The radio features an 'old school', analog AM/FM tuner that you can still tune by 'feel', unlike more modern 'digital' tuners. By the way, the quality of the tuners ability to pull in distant stations, especially on AM is exceptional. We have an all metal construction warehouse in Colorado Springs, and there's a sports / talk station out of Denver that only the best tuners can typically receive. This CR-32CDOT picked it up loud and clear without even moving the antenna! Great for listening to those night-time ball games. The FM worked fine as well and gets exceptionally loud (even louder than the CD player as it is limited automatically to avoid speaker damage). Automatic Frequency Control on the tuner top of the package. Our new "CDOT" version also plays most CD-R's (user created / "home made" CD's) and has "Repeat" function.

FEATURES:
Front-Loading 'Single Well', 20Song, Programmable CD Player
(This new version also plays most CD-R's (user created / "home made" CD's. Some CR-RW's can be finicky to play))
CD 'Repeat' function allows 'single song' repeat or entire disc
'True-Analog' Radio Tuner
*(Authors note; Analog tuners allow 'tuning by feel'. Something you don't get with 'digital' tuners. Also our personal experience with the 'analog' tuners in the Crosley models with 'analog' tuners, is that they tune in AM stations exceptionally well. That seems to typically be a 'lost art' and is getting more and more difficult to find tuners / or radios that tune AM well. Great for listening to Sports, Talk Radio or those distant, or those occasional stations from 2 states away on clear nights.)
Stereo Headphone jack
LED CD 'Track' info display
Dual 3", 8-Ohm, Dynamic, Full Range Stereo Speakers
'Real Wood Veneer' Paprika Finish
UL listed and will ship as 'A' stock!*
The Crosley CR-32CD, Limited Edition, Cathedral Radio / CD players. Great, 'iconic' conversation piece that 'talks back' for just about any setting.
UL listed and utilizes an external 'wall wart' type power supply with the following rating; 12VDC, +Pin & 1000ma / 1A (units actual power consumption is 14 watts).
Now comes with a 1 YEAR limited warranty up from their previous, 90 Day limited warranty.
Dimensions 11.5"w x 13"h x 8"d 8 lbs unpacked.

Our Catalog number: CR32CDOT
Your Price $99.99 'A' stock*

* What is 'A' stock?