Public payphones / payphone for sale. Reproduction 1950's replica pay-phone telephones by Crosley CR56. They look just like the old phone booth pay phones from the '50's.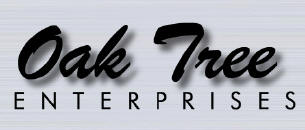 Purveyors of Electronic, Musical and Vintage goods from then, now and in between.
Since 1982.

REPRODUCTION PUBLIC TELEPHONES
BY CROSLEY
ANTIQUE / VINTAGE STYLE PUBLIC PAY PHONES




ALL NEW CROSLEY PRODUCTS FEATURE A 1 YEAR LIMITED WARRANTY.

ORDER NEW CROSLEY PHONES SECURELY ONLINE VIA CREDIT CARD OR PAYPAL FOR DOMESTIC GROUND SHIPPING TO LOWER 48 STATES.
ALTERNATIVELY,
YOU MAY PLACE YOUR ORDER BY PHONE WITH AN ADDITIONAL OPTION OF REQUESTING EXPEDITED / INTERNATIONAL SHIPPING.
PHONE:
(800) 806-4231


~10:00

AM- ~

5:3

0

PM most days

COLORADO

/ ROCKY MOUNTAIN TIME ZONE

Click on GROUND SHIPPING to estimate the delivery time to your location in the US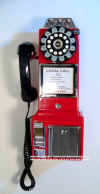 Black

Red

(Click on above thumbnails to enlarge photos)


1 Year Limited Warranty
CROSLEY CR-56 CR56
VINTAGE STYLE
PAYPHONE phone
for sale
Authentic looking 1950's style payphone by Crosley! This classic model will take you back to the days of old fashioned phone booths and five-cent calls. Drop in a coin and you'll hear the original brass jingle. The push buttons even have an authentic rotary look. Wall or desk mountable with heavy-duty ABS plastic cabinet, chrome accents, full featured coin bank with lock and key (coins not necessary to make a call), modern US phone jack hook-up and tone or pulse line selectable. Other features include a receiver volume control, ringer volume control, pulse / tone system selector and the "Coin-Return" button is the "Last Number Redial"! This is our favorite phone! Lots of fun to use. Will look great in office, game room, cafe, bar, business, den, living room or any place the "Fab" look is desired. Measures 18.25" tall x 9" wide x 6.5" deep. 90 Day limited warranty.

-NEW-
CROSLEY CR-56 CR56
Our Catalog # CR-56OT
LIST $100.00
Your Price $78.99 'A' stock

CURRENTLY OUT OF STOCK
All the Crosley reproduction phones show below are modern phones on the inside and will work with your home phone system.

CLICK HERE FOR OTHER REPRODUCTION TELEPHONES

SALE IN PROGRESS
ON NEW CROSLEY

JUKEBOXES

TOO!



SALE IN PROGRESS
ON NEW CROSLEY RADIOS / CD / RECORD
PLAYERS TOO!


SALE IN PROGRESS
ON NEW CROSLEY MUSIC BOXES TOO!


* Estimated times only for restocking and for stock levels.
Subject to change sometimes with-in minutes.
* Stock levels and 'Due Dates' for restocking are ESTIMATES only.
Subject to change sometimes with-in minutes.

POLICIES, SPECIFICATIONS, AVAILABILITY, INFORMATION
AND PRICING SUBJECT TO CHANGE AT ANYTIME AND WITHOUT PRIOR NOTICE
and changes may not be posted to web immediately.

30% restock fee / service charge applies to all returns for refund on Crosley Products.


ORDERING / SHIPPING / WARRANTY INFORMATION
ORDERING BY PHONE :
Toll Free (800) 806-4231 ext 2

onlinesales@oaktreevintage.com

~10:00 AM- ~5:30 PM most days COLORADO / ROCKY MOUNTAIN TIME ZONE