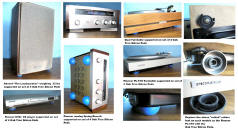 TURNTABLE / CD / DVD PLAYER / TUBE GEAR / SUBWOOFER SPEAKER / SPRING REVERB, SORBOTHANE-SILICON ISOLATION FEET

Finally we found THE ANSWER to Turntable / CD / DVD player / Tube Gear / Subwoofer / Speaker / Spring Reverb Isolation.
We have looked for years and tried many hair-brained ideas, none of which either worked nor were practical,
Until Now!

These silicon Dome-Pucks are the perfect answer for most isolation situations, where you want to reduce or eliminate the noise / vibration caused by outside influences to your Turntable, CD / DVD player or Analog Spring Reverb. Simply stick on the bottom of the unit you wish to isolate. They are VERY "tacky" so will stay in place long enough to position the unit. Once there they stay put not only from their self stick properties, but simply from the weight of the unit on top of them. Can be removed by peeling off slowly and then re-stuck to another surface.
They are sold in sets of four and we have a very limited quantity (we were only able to purchase about a dozen sets and we're keeping a few sets for our own gear).




(click on above thumbnails to enlarge photos)

These are also great for supporting light-medium weight speakers to reduce vibration and turntable rumble and to reduce the level of sound transferred through the floor & walls of apartments for less annoyed neighbors. These would also have many other uses as isolation mounts / bumpers. Each measures 2" in diameter and 1" in height. They are each a half-sphere in shape.

Set of 4
$XX
SORRY, UNFORTUNATELY SOLD OUT