_____________________________________________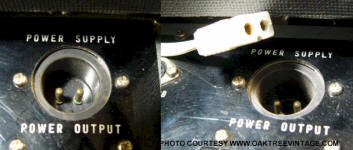 (Click on above thumbnails to enlarge photos)
SONY
REPLACEMENT
AC POWER CORD / LEAD / CABLE FOR
SONY TC-500A REEL TO REEL TAPE DECK
for sale
Replacement AC power cord / cable / mains lead for Sony TC-300, TC-500A, TC-521, & TC-777S-2-4 Reel decks and maybe the TC-600 & TC-777. These will fit the units that have 8mm center to center spacing on 2 recessed, round prongs.
GOOD-USED
$28.99
| | |
| --- | --- |
| Domestic US Customers | International Customers |
| | |
VERY limited availability.
_____________________________________________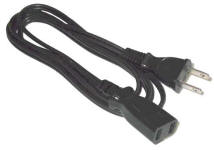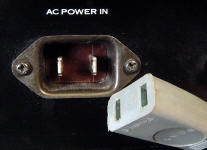 NEW ITEM 3/21/17
(Click on above thumbnails to enlarge photos)
SONY REPLACEMENT
AC POWER CORD / CABLE FOR
STEREOS AND REEL TO REELS REEL DECKS

Replacement AC power cord modified for many older Sony Reel to Reels, tape decks, and probably many others.
-
Replacement AC power cord for many older Sony vintage audio components / electronic units, especially Sony TC-630 & TC-854-4, and probably many others that have 2 flat spades / prongs.

We just got in a few 'modified for Sony' AC cords back in after 3 years of being discontinued.

$38.99 including shipping to US states
$46.99 for shipping to the rest of the planet.

TO ORDER BY PHONE,
PLEASE CALL US AT:
(800) 806-4231
(719) 362-5565
- Press Option '2' for 'SALES' to order -

(Above text, in it's entirety, including 'fit list' property of www.oaktreevintage.com / Oak Tree Enterprises, LLC. See 'Copyright Information' page for details)

Here are just a few of the units this cable will fit. Many Sony R2R's including TC-530 / TC530, TC-540 / TC540, TC-630/ TC630, TC-651 / TC651, TC-850 / TC850, TC-882. Also fits Sony Portable Cassette Decks such as the TC-124, TC-630, TC-854-4 & TC-1250.


_____________________________________________





(Click on above thumbnails to enlarge photos)

SONY
REPLACEMENT
4-PIN
AC CORD / CABLE
4-PIN FOR TV'S, STEREOS AND REEL TO REELS REEL DECKS
SORRY, BUT THESE ARE NOW SOLD OUT COMPLETELY WITH NO ETA ON MORE.
Used Sony 4-Pin AC cord for many older Sony electronic units including their Portable TV's. 6' in length.
(Fit list includes Sony R2R TC-560D, TC-772 and Sony Portable Cassette tape decks; Sony, CF-300, CF-350, CF-440, CF-550A, TC-90A,TC-124 / TC-124CS and Sony Short-Wave / World Radios including the CRF-150 / CRF150, CRF-160? / CRF160?, CRF-220 / CRF220, CRF-230 / CRF230, CRF-320? / CRF320?, CRF-1500 / CRF1500, CRF-5100 / CRF5100, CRF-5080 / CRF5080, CRF-5090 / CRF5090, Sony Earth Orbiter Radio AC cord / Cable. Sony portable / "Micro" TV's; 4-203UW, 5-303W, 5303W, 5-305uw, 5305uw, 5-307uw, 5307uw, TV-415 / TV415, TV-510-U / TV510U, TV-513 / TV513, TV-514 / TV514, TV-515 / TV515, TV-700-U, TV-715 / TV715, TV-750 / TV750, TV-760 / TV760. Check your TV to verify exact fit.) (41-5743 / 6A / 125VAC)
NOW DISCONTINUED. NO ETA ON ANY MORE. SORRY.

(Above text, in it's entirety, including 'fit list' property of www.oaktreevintage.com / Oak Tree Enterprises, LLC. See 'Copyright Information' page for details)