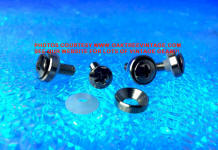 (click on above thumbnails to enlarge photos)
CHROME / NICKEL PLATED
10-32 RACK BOLTS / SCREWS
NOW BACK IN STOCK WITH "SHOULDERED*" NYLON WASHERS
These great looking rack screws / bolts will dress up your silver or Champaign faced Hi-Fi or Studio rack. Perfect for Pioneer racks and rack accessories such as; Pioneer JA-R2S, JA-R101, JA-R102, JA-R104, and Pioneer components such as the Pioneer SA-9500 II CT-F1000, 1250, RT-909 / 901 707 RT-701, TX, Pioneer Spec 1 Pre-amp, Spec 2 Power-amp, Spec 4 Power-amp, Crown DC-300, IC-150 / 150A, EQ2, Kenwood, Phase Linear 4000 / 400 / 200 / 700 / 700B, Rotel RX receivers, Equalizers, Pre-amps, Integrated amps and Power Amps, Tascam DA-38 / DA-88, Teac, Sansui, Alesis, Behringer rack mount gear bolts, JVC, Mesa-Boogie or any other brand with a lighter finish face plate / chassis. They are a high quality, shiny, chrome plated screw with standard 10-32 threads that comes supplied with matching, machine milled, counter-sunk finish grommet, and SHOULDERED nylon bushing / washer. "*Shouldered" means that they won't give your gear 'rack rash' as the washers shields the rack ears from the screw threads. They are designed for standard 10-32, US threaded road / flight case racks and rack rail and will even fit SKB rack / flight / road case type clips. Also work for computer server 'blades', cpu's, and cable organizers. Super high quality.
SOLD IN PACKS OF 4 SCREWS

$28.50 each + $7.50 shipping

Purchase 4 packs at $28.50 each and get a 5th FREE.