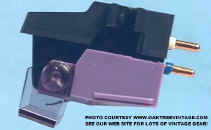 (click on above thumbnails to enlarge photos)
NEW
-THE ULTIMATE-
AUDIO-TECHNICA
AT-440MLa
"PURPLE"
1/2" STANDARD MOUNT
TURNTABLE CARTRIDGE
for sale
The Top of the Line in their current Moving Magnet line of high quality turntable cartridges. If you are looking for the best from Audio-Technica here you go. Features "MicroLine" cut Nude Diamond (allows for least record wear and most groove contact) with specially cut Square Shank mounted to a Tapered Alloy tube cantilever. Utilizes Audio-Technicas' own Vector-Aligned dual magnet design for sonic generation.
Specs are as follows:

- "MicroLine" cut, Nude, Square Shank Diamond 0.12 mil
stylus
- Tapered alloy tube Cantilever
- Frequency Response: 20-20kHz
- Output is a strong 4.0 (mV, 1 kHz, 5 cm/sec)
- Channel Separation; 27 (dB at 1 kHz)
- Channel Balance; 0.8 (dB at 1 KHz)
- Coil impedance : 3,200 ohms at 1 kHz
- Coil inductance (mH, 1 kHz) : 490
- Dynamic compliance (x10-6 cm/dyne) : 10
- Static compliance (x10-6 cm/dyne) : 40
- Dimensions (mm) : L17.3 x W 16.0 x H 28.0
Weight (g) : 6.5
- Recommended Vertical Tracking Force 1.0-1.8 grams (1.4 optimal)
- Recommended loading impedance 47K ohms (standard, requires only standard phono pre-amp built-into most gear).


Again if you are looking for the best sounding cartridge for listening to and especially for recording your vinyl collection and your record collection is in good shape and you want to insure it stays that way this is probably the cartridge for you. Yes it's more expensive than most (although it's not uncommon for cartridges to cost up into the $1000-$2000 range and they can go as high as $15,000), but when compared to the time spent recording, listening to and caring for your albums overtime it's a good and reasonable investment. You won't be disappointed.
AUDIO-TECHNICA
AT-440MLa
NEW
MSRP $300.00

These are official Audio-Technica cartridges.
Not Chinese "bootlegs", "grey-market" or knock-offs like the cheaply priced copies seen all over the internet and in on-line auctions
that simply look like the "real thing".

Our price $249.99
includes "Real-Time, Real-Person" phone support for rebalancing and re-adjusting your tone-arm's user adjustments if required or desired!